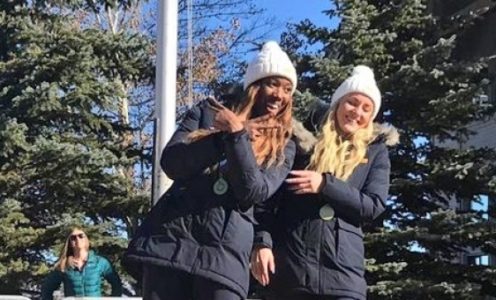 Mica McNeill and Montell Douglas won two gold medals in as many days during an encouraging start to the 2018-19 international season for British Bobsleigh.
The British pair backed up Monday evening's opening North American Cup (NAC) win in Park City, Utah, with an even more clear cut success at the same venue on Tuesday afternoon.
PyeongChang 2018 Olympian McNeill and Douglas finished more than half a second ahead of the silver medal crew from China and an incredible 2.46 seconds in front of the Australian team who finished fourth.
Their combined two-run time of 1 minute 40.67 seconds was similar to their winning effort less than 24 hours earlier, with their first run time of  50.06 seconds identical to the same run the day before.
Victory now means McNeill has won three NAC gold medals in her career and has finished in the top three on 13 occasions.
Wednesday then saw Lamin Deen and Brad Hall pilot their four-man crews on to the podium at the same venue.
Deen's team of John Baines, Ryan Letts and Tremayne Gilling picked up silver in the first of two successive races before taking bronze in the second behind Hall, Ben Simons, Nick Gleeson and Alan Toward, who were runners-up to Dominik Dvorak of the Czech Republic.
The results mean that British Bobsleigh – who train at the University of Bath Sports Training Village – finished the week with five medals and four wider podium spots from ten races. Click here to read full reports on the BBSA website.