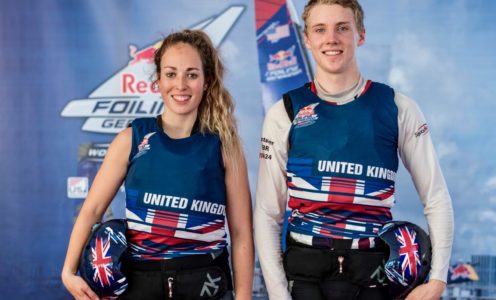 Team Bath Dual Career sailor Benno Marstaller got to learn from two Olympic Champions when he represented the United Kingdom at the 2018 Red Bull Foiling Generation World Final in Miami.
Marstaller, who is in the first year of a Mathematics degree at the University of Bath, partnered Chloe Collenette against teams representing 15 other nations in the international competition for sailors aged 16-20.
They were selected by the Royal Yachting Association (RYA) and raced in a foiling Catamaran called the Flying Phantom, falling just short of the semi-finals in the knockout competition that is seen as a potential stepping stone towards a professional career.
"It was amazing to represent the UK as it was a unique competition and we received coaching from two Olympic gold medalists, Roman Hagara and Hans-Peter Steinacher," said Marstaller. "The challenging racing against some of the best of our age group in these boats was also a great experience."
Picture of Chloe Collenettee and Benno Marstaller © Predrag Vuckovic/Red Bull Content Pool