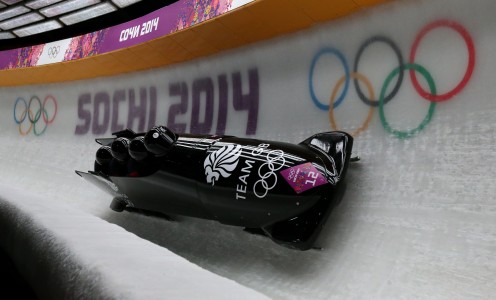 Four more athletes who trained at the University of Bath have joined the ranks of Olympic medalists after John Jackson's four-man bobsleigh crew were upgraded to the bronze-medal position at Sochi 2014.
Jackson, Stu Benson, Bruce Tasker and Joel Fearon originally finished fifth in Russia five years ago, just 11 hundredths of a second outside the medal spots at the sport's showpiece event.
The subsequent disqualification of the home nation's gold-medal winning and fourth-placed sleds for doping offences means the GB crew are now finally recognised as Olympic medalists following confirmation from the International Olympic Committee.
"I'm over the moon to be able to say I'm an Olympic bronze medallist," said Jackson, who also competed at the 2010 Games in Vancouver but retired from the sport in 2016. "Although it's been coming for so long, it's not really sunk in yet."
Tasker added: "It's a mixture of excitement, pride and relief at the moment. We chatted as a group this morning and we've remained pretty calm so far but I'm pretty sure when we get together it will be a bit more celebratory."
Benson said: "It was an incredible journey as a team and with the support staff who helped us along the way. We had ups and downs and nobody saw this result coming after Jacko was injured in the build-up to the Games.
"After all that, coming fifth was amazing so to now know we've finished third, we can only say 'thanks' to everyone for all their support."
Fearon added: "I'm very, very happy to know the medal is finally ours. I'm also a little bit sad because me and my team-mates didn't get the full Olympic experience for all the hard work we put in over the years. It's a bit bittersweet but it's definitely more sweet than bitter!"
The decision means that University of Bath-associated athletes won three medals at Sochi 2014 – Lizzy Yarnold famously claimed the first of her two women's skeleton golds, while graduate Kelly Gallagher became the first British athlete to win a gold medal on snow in either Olympic or Paralympic competition when she topped the podium in the women's super-G with guide Charlotte Evans.