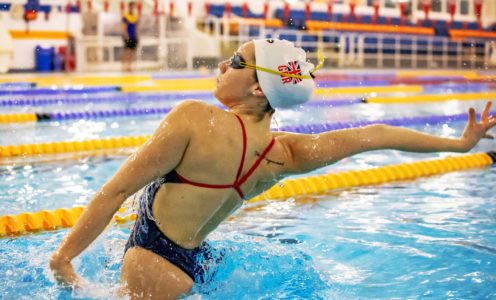 Team Bath Synchro Club's Ilaria Brandimarte overcame illness to claim a well-earned bronze medal at the Swim England National Synchronised Swimming Championships in Nottingham.
The British international, who helped GB win a superb silver medal at the FINA Artistic Swimming World Series in Paris last month, almost pulled out of the nationals after being laid low by a virus the day before competition started.
She battled on, though, and while lacking the energy to perform at her best in the technical solo, Brandimarte performed brilliantly to secure a podium place in the free solo.
"I tried to give all my heart in a routine which I had personally choreographed and really like, based around 'Somebody to Love' by Queen," she said.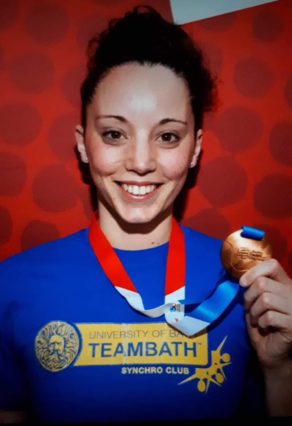 "It was tough but worth it to come home with a medal and reward everyone in my team for the hard work, as well as prove to myself that your mind and your heart can overcome anything even when the worst comes.
"Thanks go to Team Bath Synchro Club, particularly coaches Georgina Coombs and Nikki Abbotts who took me to Nottingham; Team Bath strength and conditioning coach Matt Smith who has helped me make a big step up this year; the Team Bath Physio & Sports Science Centre that I can access to freely thanks to a Team Bath Service Support Grant; and all my colleagues and friends within Team Bath at all levels.
"This medal is also dedicated to my head coach and Team Bath Synchro Club senior team supervisor Francesca Filatondi."
Brandimarte is currently in the middle of an intense training program in preparation for GB's next two big events – the European Cup in St Petersburg, Russia from May 8-12 and the next FINA World Series in Barcelona, Spain at the end of the month.
"The goal is to for the team to solidly score above 80.000 points in all the team events as well as increase our scores in the free combination and free team, with the hope of coming home with something big for GB," she added.
Brandimarte trains up to five hours per day at the University of Bath Sports Training Village while also building and coaching the successful Team Bath Synchro Club that has gone from strength to strength since she founded it in 2016.
She is a non-funded athlete and is currently crowdfunding to help her continue training full-time as the Tokyo 2020 Olympiad approaches its conclusion. Click here for further details and to make a donation.
Picture of Ilaria Brandimarte training in the London 2012 Legacy Pool by Monica Almada Gouveia.