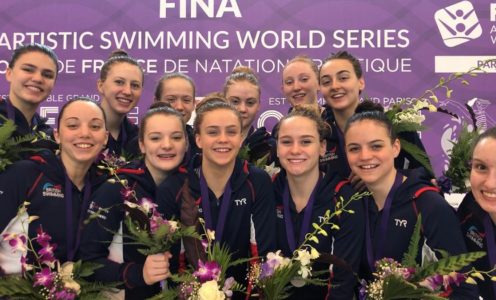 Team Bath Synchro Club's Ilaria Brandimarte helped Great Britain win a superb silver medal at the FINA Artistic Swimming World Series in Paris.
Brandimarte and team-mates Kate Shortman, Isabelle Thorpe, Daniella Lloyd, Victoria Usher, Daisy Rushton, Cerys Hughes, Greta Hampson, Millicent Costello and Cerys Larsen scored 81.6667 points to finish runners-up to Brazil in the free combination final.
Great Britain also finished fifth overall in the team free final after scoring 80.3333.
It was the perfect start to the year for Britain, who are hoping to compete at the 2019 FINA World Championships in South Korea this summer, and a step up from their performance at the 2018 European Championships in Glasgow.
Brandimarte, who made her GB debut at the Europeans, has a busy few months ahead on both the international circuit and with the thriving Team Bath Synchro Club that she founded at the University of Bath Sports Training Village.
As well as hosting a Swim England South West competition on Sunday, March 24, and the County Championships in July, Team Bath will also be staging a Summer Show following the success of their pre-Christmas Winter Show.
Bookings are also being taken for the third annual Team Bath Summer Camp, taking place from August 28 to September 1. As well as water and land-based training with international coaches, this year's participants will also have access to crossover training in rhythmic gymnastics, yoga and contemporary dance plus talks on nutrition and sports psychology.
Accommodation is also available on campus during the camp and more information is available at www.teambathsynchroclub.com or by emailing teambathsynchro@gmail.com.
Picture of GB team including Ilaria Brandimarte (front left) posted on Instagram by Kate Shortman and Izzy Thorpe.