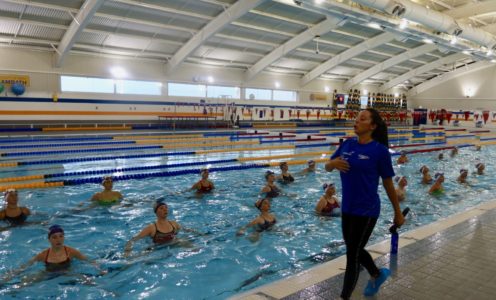 Sixty artistic swimmers from across Europe are staying and training at the University of Bath this week for the third annual Team Bath Synchro Club Summer Camp.
Young people from France and Spain are among those enjoying five days of expert coaching from international synchronised swimmers, including members of the British team, at the University's Sports Training Village.
As well as practicing routines and techniques in the Olympic-sized London 2012 Legacy Pool, attendees are benefitting from strength and conditioning training in the Jumps & Throws Hall, nutrition and sports psychology advice plus cross-over sessions in rhythmic gymnastics, yoga and contemporary dance.
Swimmers are also eating meals and staying in accommodation on campus.
Team Bath Synchro Club founder Ilaria Brandimarte, who is a member of the British Swimming team, said: "It's the third time we have run this camp in collaboration with Team Bath and it's exciting to have athletes from all over the country here as well as some from Europe.
"We are working on both sides of the sport, technical and free routines, and also have additional expert coaches from fields like artistic gymnastics, which will help the athletes improve their lifts, flexibility and acrobatic style. It will give them a 360 view of what it takes to be an athlete at the very top level of our sport."
Among the coaches running synchro sessions are GB internationals Danielle Cooper, who has helped to set up a synchro section for University of Bath students, and Daniella Lloyd who, along with Brandimarte, was part of the British team that won free combination silver at the FINA Artistic Swimming World Series in Paris earlier this year.
As well as the sessions for more advanced synchronised swimmers, the final day of the camp on Sunday will also feature novices who are just starting out in the sport, allowing them to gain more experience and learn from the swimmers around them.
Team Bath Synchro Club offers training and competition opportunities throughout the year, for beginners who want to give the sport a try through to national and international standard competitors.