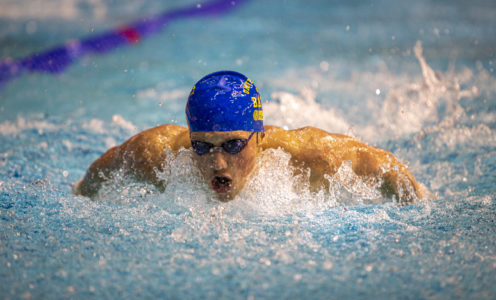 Sporting scholars Leah Crisp and Cam Brooker both struck gold as University of Bath students won 11 medals at the 2021 Speedo & BUCS Short Course Swimming Championships in Sheffield.
Sports Performance student Josh Gammon also bagged his first BUCS title and Will Ryley added two silver medals to his collection as the Bath squad, led by Head of Swimming Mark Skimming, finished fifth overall with 225 points.
"Everyone in the team either swam a season's best time or personal best, so there were good performances all round," said Skimming. "It was the first BUCS Championships for all the first and second year students and they learnt a lot from the experience."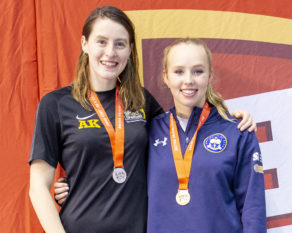 Economics & Mathematics student Crisp, who is supported by a Santander Sports Scholarship, was fastest in both the 400m and 800m freestyle, touching the wall in 4:08.77 and 8:35.15 respectively. She also won 1,500m silver (16:23.73) and was fifth in the 200m final (2:00.29).
Ivor Powell Sporting Scholar Brooker, who studies Mechanical Engineering, was victorious in the 200m backstroke (1:54.46) and bagged bronze medals in both the 100m freestyle (48.99) and 200m freestyle (1:47.35).
The British Swimming National Centre Bath swimmer, coached by Dave McNulty, narrowly missed out on a medal in the 100m backstroke (53.18) but secured a fourth podium place in the men's 200m freestyle team relay with Markos Iakovidis, Gammon and Bruno Kempster (1:29.87).
It was a third medal of the meeting for Gammon, who also won 200m butterfly gold (1:58.15) and 100m butterfly bronze (53.06), as well as finish fourth over 50m (24.14).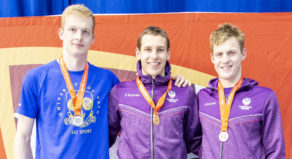 Management student Ryley, supported by a Goldsmith Scholarship, came away from a busy weekend with individual medley silver medals in both the 200m (1:58.97) and 400m (4:14.66) events. He was also fourth in the 1,500m freestyle (15:32.92), fifth in the 400m freestyle (3:53.18) and eighth in the 200m freestyle (1:48.92).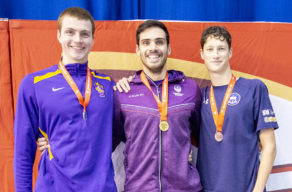 Other Bath finalists were Lottie Wynne-Jones (800m freestyle 4th 8:45.20; 50m butterfly 8th 27.79; 100m butterfly 8th 1:01.43); Jono Adam (100m backstroke 5th 53.25; 200m backstroke 9th 2:01.61; 50m backstroke 10th 25.35); Bruno Kempster (50m freestyle 6th 22.62); Ekaterina Price (200m butterfly 6th 2:15.46); Jemima Hall (100m freestyle 7th 56.26; 200m freestyle 7th 2:00.95); Miles Drabwell (200m IM 8th 2:04.64); Tom Beagley (200m breaststroke 9th 2:18.28); and Lewis Maxwell (200m IM 9th 2:05.10).
There was also a fourth-placed finish for the women's 200m medley team of Gerda Vasiliauskaite, Natalia Druett, Wynne-Jones and Jemima Hall in 1:56.45.
The University of Bath Swimming Club also entered a team into the Team Bath AS meet at Millfield School, with all of the swimmers again recording season or personal bests.