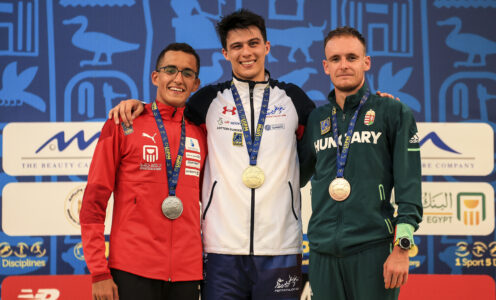 University of Bath-based Joe Choong has completed his collection of global titles – and achieved a childhood dream – after winning gold in outstanding fashion at the UIPM 2022 Pentathlon World Championships in Alexandria, Egypt on Saturday.
There was more gold for Pentathlon GB in the women's final as University of Bath sporting scholar Olivia Green and graduates Jess Varley and Charlie Follett all recorded terrific top-10 finishes to secure the team title.
Reigning Olympic Champion Choong, who also won gold at the 2019 World Cup Final, dominated the men's final, building on his lead from the fencing ranking round by producing a perfect ride and the third-fastest time in the swimming pool to start the laser-run with a 20-second lead.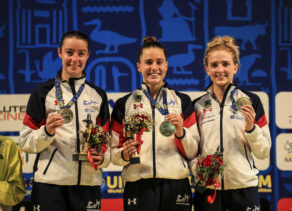 Home athlete Mohamed Elgendy managed to close to within four seconds going into the final shoot but Choong – who trains at the University of Bath and is a Mathematics graduate – had left more than enough in the tank to sprint over the finish line and add World Championships gold to his Olympic title.
"I have the set now, so I'm pretty pleased," said a beaming Choong, who won silver when Britain last contested the World Championships in 2019.
"Ever since I was a kid I've always wanted to say I was the best in the world at something. I won the Olympics, and that's the biggest thing you can do, but World Champion means you are literally number one in the world.
"I took a lot of time out after the Olympics, which I needed mentally, and this was the first competition where I have felt anywhere close to the level I had at Tokyo. I've been super-focussed and it's been a nice competition."
The women's final saw Sport & Exercise Science student Green, supported by an Alumni Fund scholarship, go mighty close to earning an individual podium finish as she finished fifth overall. Fellow Brits Varley and Follett finished seventh and tenth respectively, meaning the Brits' combined scores ensured they took the team title with 4,161 points, well clear of second-placed South Korea.