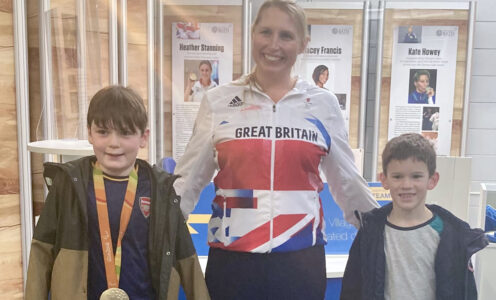 Youngsters trying out for a new Pathway programme run by Team Bath AS Performance Swimming Club received a surprise visit from Paralympic champion Stephanie Millward.
The University of Bath Hall of Fame for Sport inductee brought along her gold medal from Rio 2016 to help inspire the children, aged 7-12 years, who were at the Team Bath Sports Training Village for trials in the Olympic-sized pool that Millward trained in for almost a decade.
Nerves were soon replaced by excitement as Team Bath AS patron Millward's warmth and easy manner put the young swimmers at ease. After the trial, one swimmer enthusiastically exclaimed: "It's been great. I've really enjoyed it and I hope I get in!"
Pathway is the latest addition to Team Bath AS's well-established Academy and Performance programmes, which already provides an opportunity for the most talented swimmers in the area. Involving a 10-week block of sessions, Pathway is designed for young swimmers who want to learn race skills and techniques in a safe, structured Club environment.
Team Bath AS Coach Liam Willcox said: "We were overwhelmed by the response to the trials and had to make extra sessions available the previous week to cover the number of enquiries. I am delighted that at Team Bath AS we can develop swimmers from their first competition to competing at major events like the British Championships."
If you have a swimmer who can comfortably swim 50m across a range of three strokes and is aged 7-10 years, please contact Cara Dowding at academy.coordinator@teambathas.co.uk for further details.