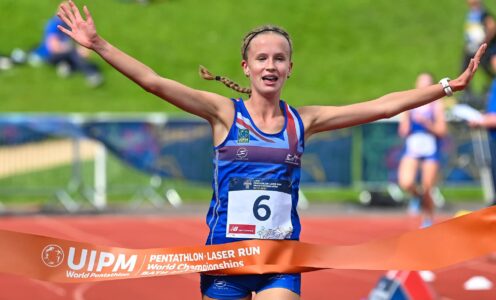 Nine days of world-class sport are under way at the University of Bath as it proudly plays host to the 2023 UIPM Laser-Run and Pentathlon World Championships – click here to buy tickets.
Getting the action started were the first-ever Laser-Run World Championships to be staged in Britain, which saw more than 560 athletes representing 33 different countries competing across age ranges from under-9s to over-70s.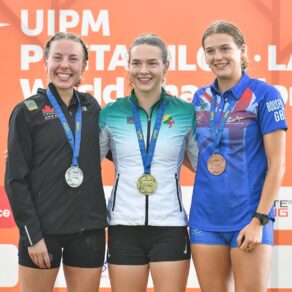 Elzbieta Adomaityte of Lithuania claimed the coveted title of Women's Senior World Champion after comfortably winning gold ahead of silver-medallist Devan Wiebe of Canada. Pentathlon GB's Alex Bousfield, a Politics and International Relations student at the University, claimed bronze for Great Britain.
The men's crown went to Spain's Pau Salomo, who held off the challenge of Alexandre Dallenbach of Switzerland and Shuai Luo of China.
Britain claimed three gold medals on the opening weekend and other titles went to athletes from Egypt (7), Germany (4), France, Latvia, Monaco and South Africa.
Focus will turn to Modern Pentathlon for the next week, with both the men's and women's relay getting under way on Monday with the fencing ranking round in the multi-purpose Team Bath sports hall.
The first medals will be decided when the competitions are completed on Tuesday, with the women's relay taking place from 9am-12.30pm and the men's relay from 2-5.30pm.
Tuesday is also Family Day, with all tickets priced just £5. Visitors to the Sports Training Village will be able to try laser shooting, fencing and obstacle course, both an inflatable one for youngsters and a Ninja Warrior-style set-up for everyone to take on. They can be found on the indoor tennis courts.