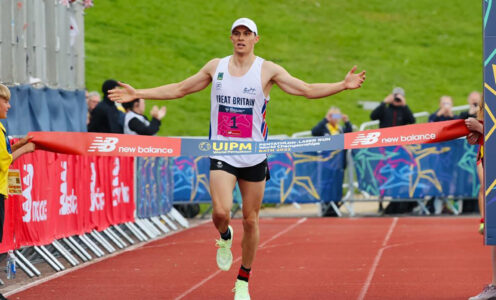 Pentathlon GB's Joe Choong won gold on home soil and Italy's Elena Micheli defended her women's crown on a truly Super Sunday of UIPM Pentathlon World Championships finals action at the University of Bath.
Olympic Champion Choong, who trains and studied at the University, had a 10-second lead going into the laser-run after strong riding, fencing and swimming performances but had to hold off a fierce challenge from Mexico's Emiliano Hernandez before pulling away to retain his men's crown in phenomenal fashion in front of a vocal home crowd.
The women's final had seen Micheli also defend the title she won in 2022 in emphatic style as she led an Italian 1-2 with Alice Sotero, who had started the day in 17th, while Pentathlon GB's Kerenza Bryson provided the home fans with plenty to cheer as she claimed a brilliant bronze.
Pentathlon GB won silver in both team events, with Choong being joined on the men's podium by fellow Bath graduate Myles Pillage and Sports Management & Coaching student Charlie Brown. Olivia Green and Jess Varley completed the women's team with Bryson – all four British women, including Emma Whitaker, placed in the top 10 of the individual rankings.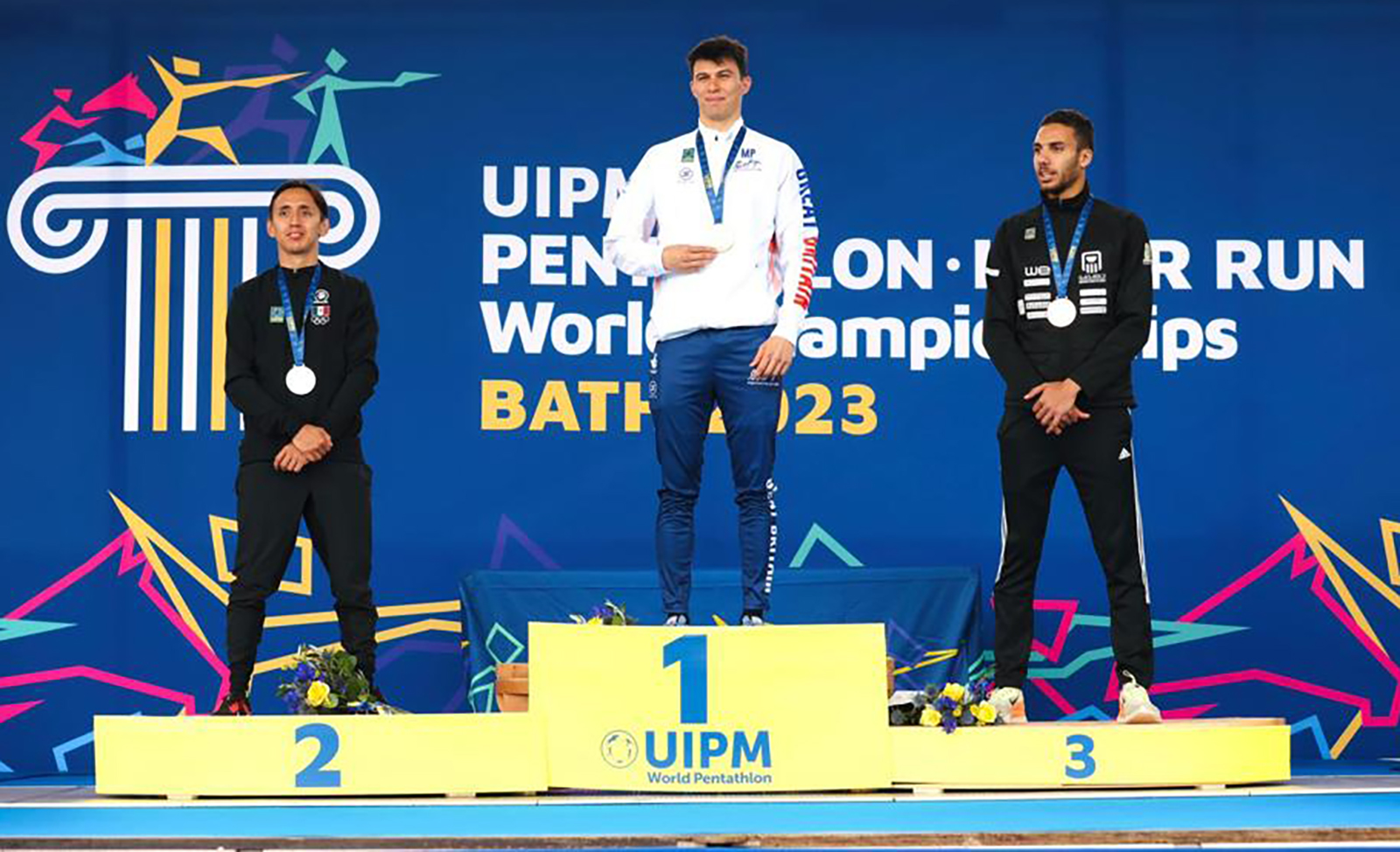 Choong said: "Three weeks ago I wasn't even sure I would be competing as I tore my calf muscle, so I'm absolutely speechless that I won this competition. The crowd has been absolutely amazing and thank you so much for coming, it's been one of the favourite competitions I've ever done.
"It's really difficult to be negative and think you are tired when you have so many people screaming at you to do well, it really keeps you in a positive mind frame and brings the best out of you."
Women's champion Micheli said: "Me and my coaches have worked really hard for this and I'm really happy we could make that dream come true today. We are twice World Champion now and I'm so excited."
Bryson, who secured a Paris 2024 Olympic Games quota place for Britain, added: "I ran out of the last range sprinting and held on for dear life. It wasn't until I looked back with 70m to go and saw I had some ground that it started to sink in.
"I want to say a massive thank you to my friends and family; to UK Sport and the National Lottery for funding us; to 165 Port and Maritime Regiment in Plymouth, my Army family who are standing behind me and allowing me to do this; and to Pentathlon GB for hosting this amazing event. I'm so grateful to everyone."
Among those watching Sunday's finals at the Team Bath Sports Training Village, which has been home to Pentathlon GB's National Training Centre for the past 25 years, was Albert II, Price of Monaco who presented awards to the medallists.
---
Women's final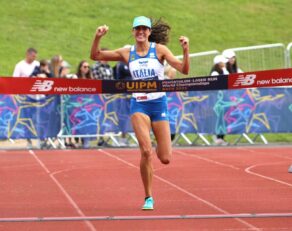 With the results of Wednesday's fencing ranking round carrying over to the final, Italy's Alessandra Frezza began the day with a 10-point lead over Rebecca Langrehr of Germany but just five points separated third and 11th place in a tightly-packed field.
The horse riding, contested in overcast conditions, proved challenging with none of the 18 riders producing a clear round. Green, Turkey's Ilke Ozyuksel and Mexico's Mariana Arceo had just one knockdown each, though, to finish level on 293 points, one ahead of Whitaker.
That saw Arceo go top of the overall rankings, just ahead of Langrehr, and Green move up to third but Hungary's Michelle Gulyas, the 2022 silver-medallist, saw her hopes dashed by the only elimination of the round after three refusals at the final fence.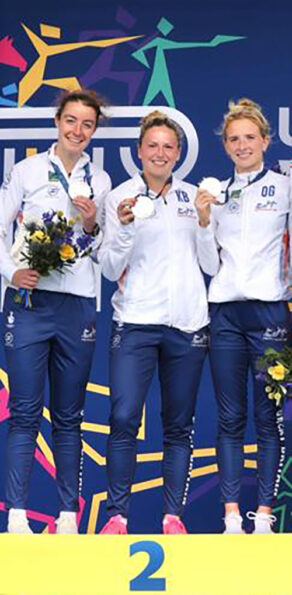 The fencing bonus round saw GB's Bryson, China's Mingyu Zhang and Spain's Laura Heredia all pick up vital wins to add valuable points to their total, moving Bryson and Zhang up to second and fourth respectively ahead of the swim.
Zhang also impressed in the London 2012 Legacy Pool, touching the wall first in the last heat finishing just two-hundredths of a second quicker than Green in a well-paced last heat, but it was Italy's Sotero and Micheli who produced the two fastest times overall.
That meant defending champion Micheli went into the laser-run as leader, two seconds ahead of Arceo and three seconds clear of Zhang with Green a further three seconds back in fourth. Bryson was sixth, Varley 11th and Whitaker 12th.
Micheli and Arceo remained at the head of the field for the first two visits to the shooting range but a rapid third shoot from the Italian proved decisive and she never looked like being caught after that, eventually finishing nine seconds ahead of the field.
Behind her, compatriot Sotero – who started 10th – and Bryson were surging through the pack and they found themselves in the medal positions with two shoots to go. London 2012 Olympic Champion Laura Asadauskaite, gold-medallist on her last two visits to Bath for the 2015 and 2019 Europeans, also made a late push but Sotero and Bryson held on to complete the podium, the Brit crossing the line to a huge cheer from the home crowd.
---
Men's final
Just 10 points separated the top 10 athletes following Friday's fencing ranking round, with Hungary's Bruce Demeter top on 240 points. Hot on his tail were defending champion Choong, 2023 World Cup Final gold-medallist Mohanad Shaban and fellow Egyptian Mohamed Elgendy, silver-medallist to Choong 12 months ago.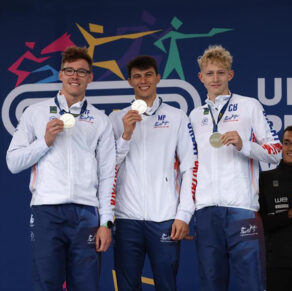 The ride once again proved challenging, with no one going clear, but four athletes had just one knockdown including Choong, South Korea's Jihun Lee and Mexico's Emiliano Hernandez who all moved into the top three as a result. Demeter dropped to 15th after a series of penalties and Ukraine's Roman Popov was eliminated.
Choong added four fencing bonus points to his tally before recording a solid time of 2:02.44 in the London 2012 Legacy Pool to give him a 10-second advantage over Hernandez going into the laser-run.
GB's Myles Pillage set the fastest time of 1:57.23 and Tokyo 2020 silver-medallist Ahmed Elgendy also went under two minutes to join his fellow Egyptians in a stacked top-10 that also featured all three South Korean athletes.
An intriguing laser-run saw Hernandez quickly close down Choong and take the lead going into the first shoot but the Brit was more accurate in the range and regained the advantage. The next couple of shoots followed a similar pattern, with the front two inseparable, but the final visit to the range saw Choong hold his nerve and emerge with a healthy lead which, with the crowd roaring him home, he was able to maintain.
Hernandez secured a well-deserved silver and behind him was an Egyptian battle for bronze which Shaban won from the Elgendy brothers, Ahmed and Mohamed. They took the team gold ahead of Britain, where Choong was joined by Pillage (13th) and Charlie Brown (17th).