Tribe and schools
Children and young people are our future – and Team Bath believes they should have every opportunity to enjoy sport in a fun and safe environment.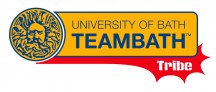 Catering for children from two years old, our trained coaches introduce young children to new sports and develop their skills as they progress.
We offer:
Team Bath Futures
Futures is Team Bath's all-encompassing youth sport programme dedicated to providing young athletes with the necessary support to realise their potential.
It includes our Talent Development Centre which aims to maximise the potential people from the South West to progress to elite levels in sport, but also many other facets.
To find out more, visit the Team Bath Futures page.
Our Facebook page
Like Team Bath Tribe and Sports Development on Facebook to keep up with the latest developments.
Contact our team
The Tribe and schools team is led by Deputy Director of Sport Greg Sharp, who works alongside Sports Development Officer Jess Clements and Tribe Programmes Co-ordinator Stacey Tadd to deliver a varied and exciting range of sports academies, camps and holiday schools for youngsters.
Find out more about our dedicated team on the staff profiles page.
Team Bath Tribe office:
Telephone: 01225 386915
Email: tribe@bath.ac.uk
Talent Development Centre:
Telephone: 01225 386670
Hayley Deacon, Talent Development Centre Co-ordinator
H.C.Deacon@bath.ac.uk
See the dedicated web pages for full details: Talent Development Centre
Child Protection and Safeguarding Policy
Please read our University of Bath Child Protection and Safeguarding Policy (updated February 2014) [PDF]
Tot activities

Team Bath Tots offers sport for children aged two to seven. We have a range of fun activities including football, tennis and trampolining. Your children can play in the same standard of facilities that are used by our stars. We believe in inspiring the next generation.

Read More

Tribe activities

Our Team Bath Tribe activities are designed for children aged seven to 14. We offer regular weekly Tribe classes as well as holiday classes in sports including athletics, badminton, football, hockey, judo, netball and tennis.

Read More

Holiday activities

Our sport-specific holiday sessions offer children the chance to try out a sport or develop their sporting skills at the University of Bath's inspirational sports facilities. The sessions are fun-packed and progressive.

Read More