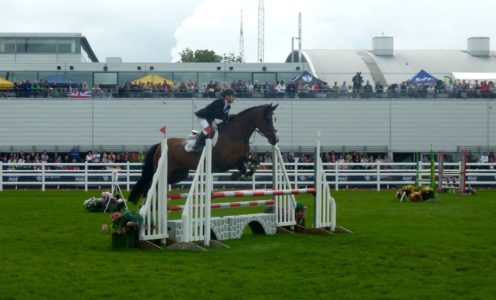 Welcoming the Wallabies, hosting Europe's finest all-round athletes and celebrating success on the domestic and international stage – 2015 has been another sporting year to savour at the University of Bath.
And 2016 promises to be another terrific 12 months, with the Rio 2016 Olympic and Paralympic Games taking place during the University's 50th anniversary celebrations.
The Road to Rio passed through the Sports Training Village (STV) in August 2015 as the Modern Pentathlon European Championships took place at the home of Pentathlon GB.
More than 100 athletes from across the continent were watched by almost 3,000 spectators as the STV once again demonstrated its ability to stage world-class sporting events.
And the home supporters had plenty to cheer as Mathematics student Joe Choong and Sport Performance graduate Kate French secured two of the 16 Rio 2016 Olympic Games qualifying quota places on offer.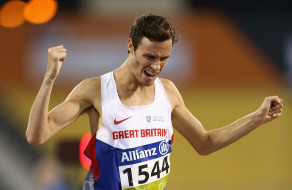 French & Politics graduate Samantha Murray also set the Olympic qualifying standard with a top-five finish at the World Championships and is among a host of University-based sportspeople bidding to compete at Rio 2016 in the summer.
They include athletes Paul Blake, who brilliantly defended his IPC World Championships T36 800m title in Doha during 2015, and Eilidh Child, who won 4x400m relay bronze at the IAAF World Championships in Beijing.
Wheelchair fencer Piers Gilliver ends the year ranked number one in the world after claiming three epee World Cup gold medals and World Championships silver, while Ben Fletcher – one of many world-class judoka coached by Juergen Klinger at the STV – is well placed for Olympic qualification after winning titles in Tunis and Mauritius.
The University could also have a strong swimming representation in Rio if this year's results for the British Swimming National Centre Bath are anything to go by.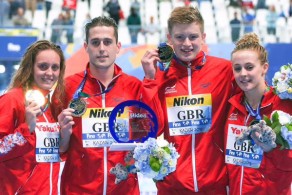 Siobhan-Marie O'Connor, Chris Walker-Hebborn and Sport Performance graduate Calum Jarvis all won relay titles at the FINA World Championships in Russia, while Jazz Carlin struck double gold at the European Short-Course Championships in Israel.
Andrew Willis, who completed his Chemical Engineering degree this summer, was also a medallist in Israel as he continued his proud record of reaching every major 200m breaststroke final since 2010.
The international swimmers train alongside members of the public in the newly-refurbished £1.6million London 2012 Legacy Pool, which was officially reopened by alumnus and Olympic silver-medallist Michael Jamieson in June.
Among the current students looking to make a splash at Rio is Jay Lelliott, who was one of five athletes and two coaches to represent both the University and Great Britain with distinction at the 2015 World University Games in South Korea.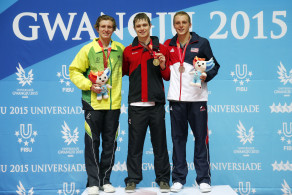 Lelliott, a Sport Performance student coached by Mark Skimming, won gold and silver in the swimming pool, while tennis player Alex Walker – who graduated in Business Masters this summer – claimed mixed doubles silver. She was coached by Team Bath MCTA's Barry Scollo.
Also in action at the World University Games – the second-largest multi-sport event after the Olympics – were Chemical Engineering student Angus Pedersen (badminton), Integrated Mechanical & Electrical Engineering Masters student Kristian Callaghan (shooting) and Sport Performance student Thomas Tsiopanis (swimming).
The latter was one of 18 student-athletes to be awarded University of Bath Sporting Scholarships during the 2015-16 academic year. Others included Lloyd Wallace, who made history when he won Britain's first-ever Europa Cup Aerials skiing gold medal; fellow Sport Performance students Shaunagh Craig and Paige Reed, who have been named on the 2016 England Netball High-Performance Programme; and Sports & Social Science student Jenny Nesbitt, who won U23 team gold at the European Cross-Country Championships.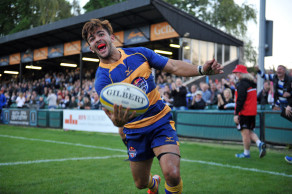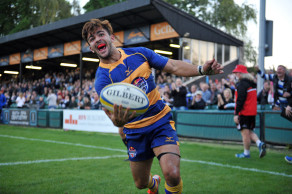 It was a great year for the University's student teams in British Universities & Colleges Sport [BUCS] competition, with the women's tennis players winning a fourth successive national title.
The men's rugby team, coached by Aaron James, also retained their status as European champions when they won a dramatic Red Bull 7s final in front of more than 12,000 spectators at Bath Rugby.
That triumph came during the Rugby World Cup, which the University had strong links to. It was the first World Cup featuring the all-new 'crouch, bind, set' scrum engagement technique developed following research by the Department for Health.
The Webb Ellis Trophy itself paid a pre-tournament visit to the Sports Training Village, where it was greeted by a spectacular flash-mob dance featuring local schoolchildren.
University rugby coaches Rob Webber and Dominic Day represented England and Wales respectively, while Economic student Louis Mulholland was in the USA's 50-man training squad.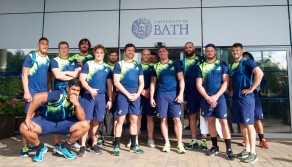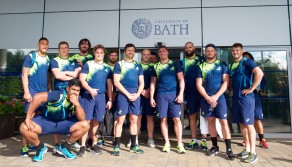 But the strongest link to the World Cup was provided by Australia, who became the latest international team to train at the University when they set up Team Base here during the early stages of the tournament.
Head Coach Michael Cheika and his world-famous Wallabies – who went on to reach the final – were full of praise for the "first-class facilities" and warm welcome they received.
One of the few facilities not used by Australia during their stay was the University's unique 140m outdoor push-track, which reopened in 2015 after an extensive upgrade.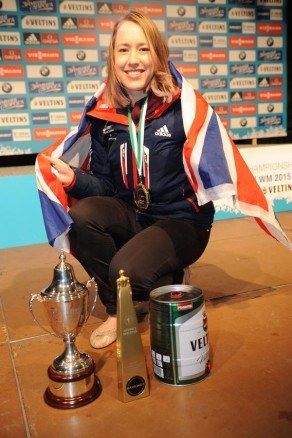 Among the British Bobsleigh & Skeleton Association athletes to have developed their skills on the track is Lizzy Yarnold, who this year added World and European gold to her Olympic skeleton title.
Also completing a full set of international titles in her sport during 2015 was Sports Technology graduate Heather Stanning, following her women's pair success with Helen Glover at the World and European Rowing Championships.
Both Stanning and Glover, who are reigning Olympic champions, started their careers at the University with the GB Rowing Team Start Programme and were named as Female Crew of the Year by FISA, World Rowing's governing body.
They will be favourites to retain their Olympic title during 2016 – a year that looks set to provide another unforgettable chapter in the University of Bath's sporting success story.