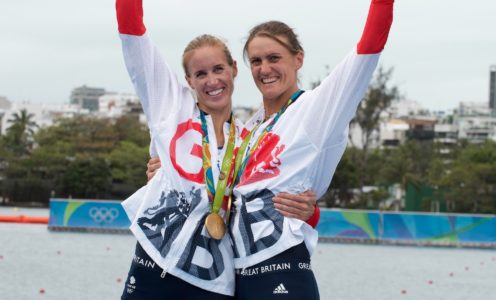 They learnt to row at the University of Bath, now Helen Glover and Heather Stanning have created more sporting history by winning women's pair gold at the Rio 2016 Olympic Games.
Four years after becoming the first British women rowers to win an Olympic title with their unforgettable success at London 2012, Glover and Stanning became the first British women to retain their crown with an imperious display on the Lagoa Rodrigo de Freitas.
Unbeaten as a pair since 2011, Glover and Stanning – both graduates of the highly-successful GB Rowing Team Start talent development programme at the University and Minerva Bath RC – effectively won the race in the opening 1k as they stormed clear of the field.
They maintained that powerful rhythm, underlining their dominance, and only saw their lead cut in the closing stages as New Zealand and Denmark battled it out for silver.
Glover, who was identified as a potential rowing champion through the Sporting Giants programme in 2007, said: "It's really difficult to put this feeling into words. When you become Olympic champion once, it's something you feel like you've managed to do. You've managed to put in the number of races and amount of training you need to win an Olympic title.
"But when you set your sights four years in advance and it's not managing to do it but to defend your title is something very, very special.
"The first time we did it, it took a long time to realise we were Olympic champions and it was all new to us. This time round, we crossed the line and we were 2016 champions and we felt like that straight away.
"It's that real realisation and I think we both felt it more this time round. This was a bigger feeling than even at a home Games – it's amazing. We feel privileged to be able to do this. It's a privilege to represent your country, race the best in the world and do it for a living."
Stanning first began rowing for Bath University Boat Club in 2003 when she started studying Sports Technology before progressing onto the Start programme.
Comparing the win to London 2012, the University of Bath Hall of Fame for Sport inductee said: "It means so much more, we've put an awful lot of pressure on ourselves and I've been so emotional this week which isn't me at all.
"We've worked very hard to get this record and to be where we are. We've had some fantastic opposition over the years.
"It's a tough event and you've seen while we've been in the event, that everyone has put up different pairs and it's pushed us on.
"Without [coach] Robin Williams, we wouldn't be the crew we are. He's 100 per cent the third person in that boat so thank you to him for everything."
Glover and Stanning are the third Bath Start graduates to win a medal for Team GB at Rio this week, following Vicky Thornley's silver in the women's double scull with Katherine Grainger.
Trials will be held for aspiring Olympians at the Bath Start Programme in the coming weeks. Click here to find out more about rowing at the University of Bath.
Picture of Helen and Heather copyright of Peter Spurrier/Intersport Images