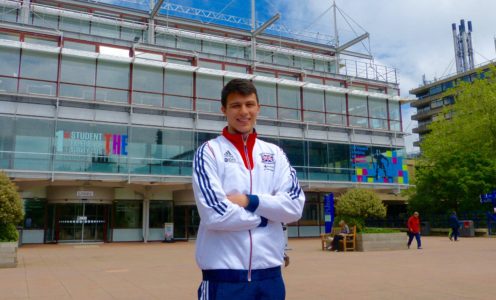 Nutrition's critical relationship with athlete performance has heightened in focus over the past decade and at major events such as Rio 2016, its role in athlete preparation is demonstrated on the world stage.
Athletes such as modern pentathlete Joe Choong, who begins his Olympic Games on Thursday (August 18), bases his training regime around a dedicated and tailored diet – something he believes can't be overstated in importance when competing at the top level.
"I believe nutrition is the biggest aspect of preparation for a major event," says the Mathematics undergraduate. "You have to be really strict with supplements. For example we have to take pills morning and night and forgetting to take it could prove to be the difference between winning a medal and not.
"This applies all year round, but it becomes even more important nearer to an event."
As the understanding of nutrition's role in athlete performance deepened immensely over the past decade, alongside it came the boom of a sports nutrition industry.
The search for dietary advice to optimise performance reached new importance and has shaped the entire sphere of nutrition.
"This transition has happened over the past five to 10 years," says Team Bath sports nutritionist Phil Sharma-Woodland who, before moving to the University of Bath, worked with professional rugby and football clubs, international lacrosse players and MMA fighters including world champions.
"Any good sports nutritionist now has to understand sports," Sharma-Woodland continues. "Previously nutritional advice may have been provided by a conventional nutritionist who may not have had the understanding."
An active man himself, the former Rotherham Titans sports nutritionist says that having first-hand experience of fitness is crucial when passing on the best advice to others.
"As a sports nutritionist I need to understand what it's like to lift the weights to have an understanding of what the training is doing to the body.
"I need to know what that training requires and that's the difference between a nutritionist and a sports nutritionist; it's not just about healthy human function but peak performance."
Approaching a major sporting event such as Rio 2016 naturally places an even greater emphasis on industry experts and Sharma-Woodland believes preparation is key to athletes performing to their best.
"It's important in the build up to a big event like Rio that athletes don't push themselves too hard in preparation," he says. "The most important thing is to fuel their training, help their body recover and prevent injury by making sure they're staying hydrated, that their nutritional intake won't lead to injury and they don't leave preparation too late."
With temperatures in Rio exceeding 30C on occasion, dehydration becomes an additional factor for sports nutritionists to take into account and dealing successfully with this hazard can prove an important objective.
"When athletes go abroad to somewhere like Rio you have to ensure they have the right re-hydration drinks with the electrolytes and salts which will replace those that a lot through sweating," Sharma-Woodland says.
"If an athlete is competing in a hot country, they should be drinking more, but only to the level where they are urinating the same level as if they were still training here. If you drink too much you end up urinating more often than you're used to and you lose a lot of your salts."
For more information about Team Bath's sports nutrition services, see our Sports nutrition page.
To keep up to date with Choong's progress and the results of all University of Bath-based athletes at Rio, see our Rio 2016 page.