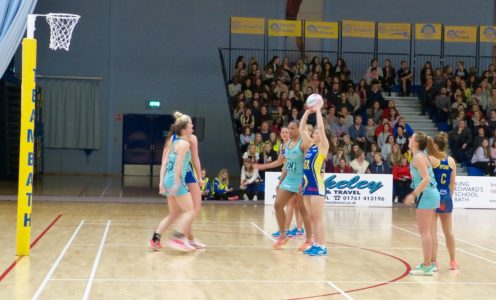 Team Bath Netball gave Superleague leaders Surrey Storm the toughest test of their season so far but fell to a narrow 52-46 defeat at the University of Bath Sports Training Village on Monday night.
In a physical and fast-paced match, the Blue and Gold – sponsored by Sitec – reduced an eight-point half-time deficit to just two goals during another emphatic third quarter but Storm held on for victory.
The result leaves Team Bath – who entertain Team Northumbria on Friday (7.45pm) – fourth in the Superleague table, three points behind third-placed Wasps and six behind Storm and second–placed Loughborough Lightning.
Director of Netball Jess Thirlby said: "We are frustrated and this result should hurt because it was an opportunity missed. We had a game plan and when we executed it successfully I felt we had the upper hand.
"Unfortunately we made too many unforced errors and that is what let us down. There was a lot of stuff out there we could be proud of – Eboni [Beckford-Chambers] had no right to win so many clean turnovers and our attacking pass percentage was higher than Storm's in quarters two and four – but that is not reflected in the final score because we were too wasteful at times. The good thing is we have another home game this week to put that right."
Visitors Storm were the quicker of the two teams out of the blocks and soon established a four-goal cushion thanks to accurate shooting from giant goal shooter Megan Craig and goal attack Katie Harris.
But the home team rallied and, thanks to impressive defensive interceptions from wing defence Layla Guscoth and good link-up play between Laura Rudland and Chelsea Lewis in attack, drew level just before the end of the first quarter.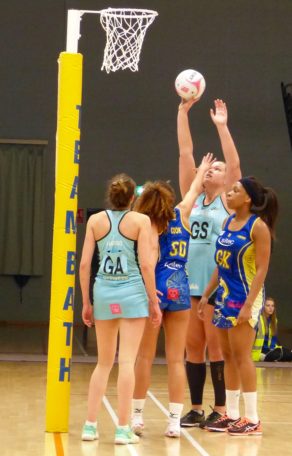 Surrey hit back in the second period, notching eight unanswered goals as the result of ruthless defending and swift attacking play in the Bath half leading to a half-time scoreline of 29-21 to Storm.
If the second quarter was Surrey's period of dominance, however, the third was most definitely Bath's. The introduction of Asha Francis at goal attack, on her 31st birthday, and Imogen Allison at wing defence helped to swing momentum back in favour of the Blue and Gold who netted nine unanswered goals of their own to draw within a couple of points of the away side.
Bath's impressive fitness and outstanding defensive work from player-of-the-match Beckford-Chambers, who clearly relished her battle with Craig, seemed to be giving them the advantage heading into the final quarter but Storm dug deep to hit back in the final period of play, edging the last 15 minutes by a point to seal a 52-46 victory.
Wing attack Rachel Shaw said: "We always knew it was going to be a physical battle tonight and that's what we got. We had a lot of turnovers but we just gave the ball away a few too many times, which was frustrating.
"It was good to come back strongly again in the third quarter but we have to stop putting ourselves in that position," she continued. "Hopefully we can learn the lessons from tonight and perform well across all four quarters against Northumbria on Friday."
Tickets for the Northumbria match – priced £12 for adults, £8 concessions and £35 for family tickets – are on sale now at www.teambath.com/events/ticketline.
Team Bath Netball are sponsored by Sitec, Mogers Drewett are their Education Partners, Centurion Wealth Management are supporting the team's performance analysis capabilities, Surridge are the kit supplier and Skins provide the team with compression wear.
Match stats
Team Bath Netball
Starting seven: GS Chelsea Lewis; GA Laura Rudland; WA Rachel Shaw; C Mia Ritchie; WD Layla Guscoth; GD Sam Cook; GK Eboni Beckford-Chambers. Bench: Imogen Allison, Asha Francis, Jazz Scott, Shantal Slater, Vangelee Williams.
Changes: Q2: Francis – bench to GA; Rudland – GA to bench; Allison – bench to WD; Guscoth – WD to GD; Cook – GD to bench.
Surrey Storm
Starting seven: GS Megan Craig; GA Katie Harris; WA Georgia Lees; C Mikki Austin; WD Beth Sutherland; GD Katy Holland; GK Nadia Hutchinson. Bench: Rhea Dixon, Lorraine Kowalewska, Yaz Parsons, Frankie Wells, Scarlett Williams.
Changes: Q3: Williams – bench to WD; Sutherland – WD to bench. Q4: Parsons – bench to WA; Lees – WA to bench.
Quarter scores (Team Bath first)
Q1: 11-12. Q2: 21-29 (10-17). Q3: 37-42 (16-13). Q4: 46-52 (9-10).
Attendance: 1,150.