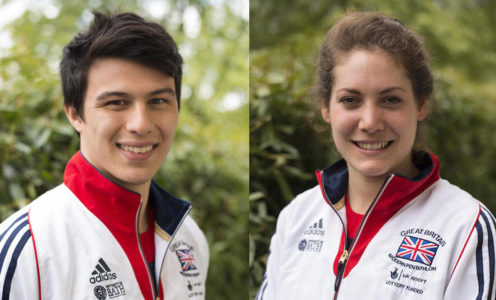 University of Bath student Joe Choong and graduate Kate French both overcame challenging conditions to record superb sixth-placed finishes at the Modern Pentathlon World Championships in Cairo, Egypt.
MJ Church ambassador Choong, who studies Mathematics, enjoyed a strong start to the men's individual final by winning 22 of his 35 fencing bouts and recording the fastest time of 2:00.87 in the swimming pool to sit in third place.
An unfortunate fall when his horse stopped unexpectedly at a jump meant Choong dropped to seventh after the ride but he fought back strongly in hot and humid conditions to record the sixth fastest run-shoot of the day.
"I was absolutely gutted with my ride but at least I had the chance to fix it with one of my best laser-runs afterwards," said Choong, who competed at the Rio 2016 Olympic Games.
Pentathlon GB team-mate Tom Toolis – who graduated in Sport & Exercise Science last month – also qualified for his first-ever World Championships men's final and placed a fine 20th overall, his best result at a major event outside of the UK.
In the women's final, Sports Performance graduate French continued her excellent season by producing her highest-ever placing at a World Championships.
As in her fifth-placed finish at the Rio Olympics, French excelled in the riding and negotiated a tight and tricky course with just one knockdown to go into the run-shoot just 11 seconds adrift of the leaders.
Despite problems with her shooting, French sit between fourth and sixth throughout the 3,200m course after a controlled performance.
"Overall I am happy with sixth position," she said. "It's my best World Championships finish and much better than I have managed at this competition in the last few years.
"Despite the slight disappointment of the final discipline today, I'm so chuffed with my season overall. I haven't finished outside the top seven all year, which is such a pleasing achievement as being consistent in this sport is so hard."
Click here to read full World Championships reports on the Pentathlon GB website.
The University of Bath Sports Training Village has been the national training centre for Pentathlon GB for the past two decades, with many athletes taking the opportunity to combine world-class education with elite training. Click here for more information.