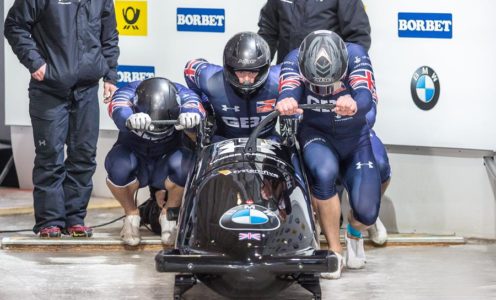 Brad Hall guided GB Bobsleigh to their first World Cup medal in four years during another impressive weekend of international competition for the University of Bath-based British Bobsleigh & Skeleton Association (BBSA).
Lamin Deen's quartet were also on the wider podium during the four-man competition at Park City in the United States, while Laura Deas secured a second successive top-five finish in the women's skeleton.
Hall, Bruce Tasker, Joel Fearon and Greg Cackett were competing together for the first time since February's World Championships but were soon into their stride, producing start times of 4.80 and 4.79 as they finished just 12 hundredths of a second behind race winner Johannes Lochner of Germany.
It marked a stunning turnaround for former decathlete Hall, who had missed the cut in the previous day's two-man competition after finishing 22nd on the same track.
Deen, Ben Simons, Toby Olubi and Andrew Matthews produced the third-best time of the second run to move up to sixth in the final standings.
GB Bobsleigh Head Coach Lee Johnston said: "I genuinely believe this is a true reflection of how this team is. We have some of the best athletes in the world; we have two top drivers who are providing competition for each other; the mood is excellent and there is a great camaraderie in the camp."
Mica McNeill and Mica Moore placed 13th in the women's bobsleigh in tough conditions on Friday.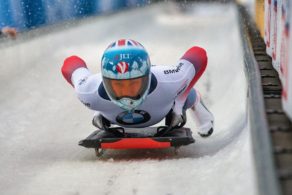 Heavy snowfall meant the women's skeleton competition was moved back 24 hours, when Deas clocked an overall time of 1:40.88 to place fifth overall.
That moves her up to third in the overall World Cup rankings, one place ahead of fellow Brit and reigning Olympic Champion Lizzy Yarnold who was eighth in Park City. Seventeen-year-old Ashleigh Pittaway was 21st for the second week running, just three-hundredths of a second away from a spot in the second run.
In the men's race, University of Bath PhD student Dom Parsons was 20th while Jerry Rice and Jack Thomas missed out on second runs as they placed 24th and 25th respectively.
On the Europa Cup circuit, Brogan Crowley won gold and bronze in her women's skeleton races in Winterberg. Craig Thompson and Ellie Furneaux were also on the wider podium as they finished fourth and sixth in their respective races.