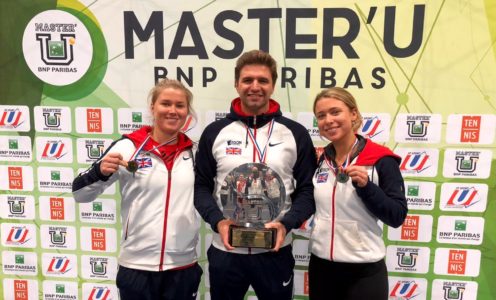 University of Bath students Emma Hurst and Pippa Horn helped Great Britain win a historic gold medal during a memorable weekend at the prestigious Master'U BNP Paribas tournament in France.
Already guaranteed their best-ever finish at the world's biggest annual student tennis team event following an emphatic 7-0 semi-final win over China, Britain produced a stunning performance to beat the United States – winners of the trophy for the previous six years – 4-2 in a fantastic final on Sunday.
Team Bath Director of Tennis Barry Scollo, who was joint captain of the British team in Lille, said: "This is an incredibly proud moment for university tennis in this country. I have personally been involved in this tournament for the past six years and to see us progress from finishing seventh and eighth to winning gold against the country with the strongest collegiate tennis system in the world is an incredible achievement.
"The improvement has been the result of a lot of hard work and investment behind the scenes from the likes of [joint captain] Alistair Higham at the Tennis Foundation and [sports psychologist] Julie Blackwood, as well as the players in the system."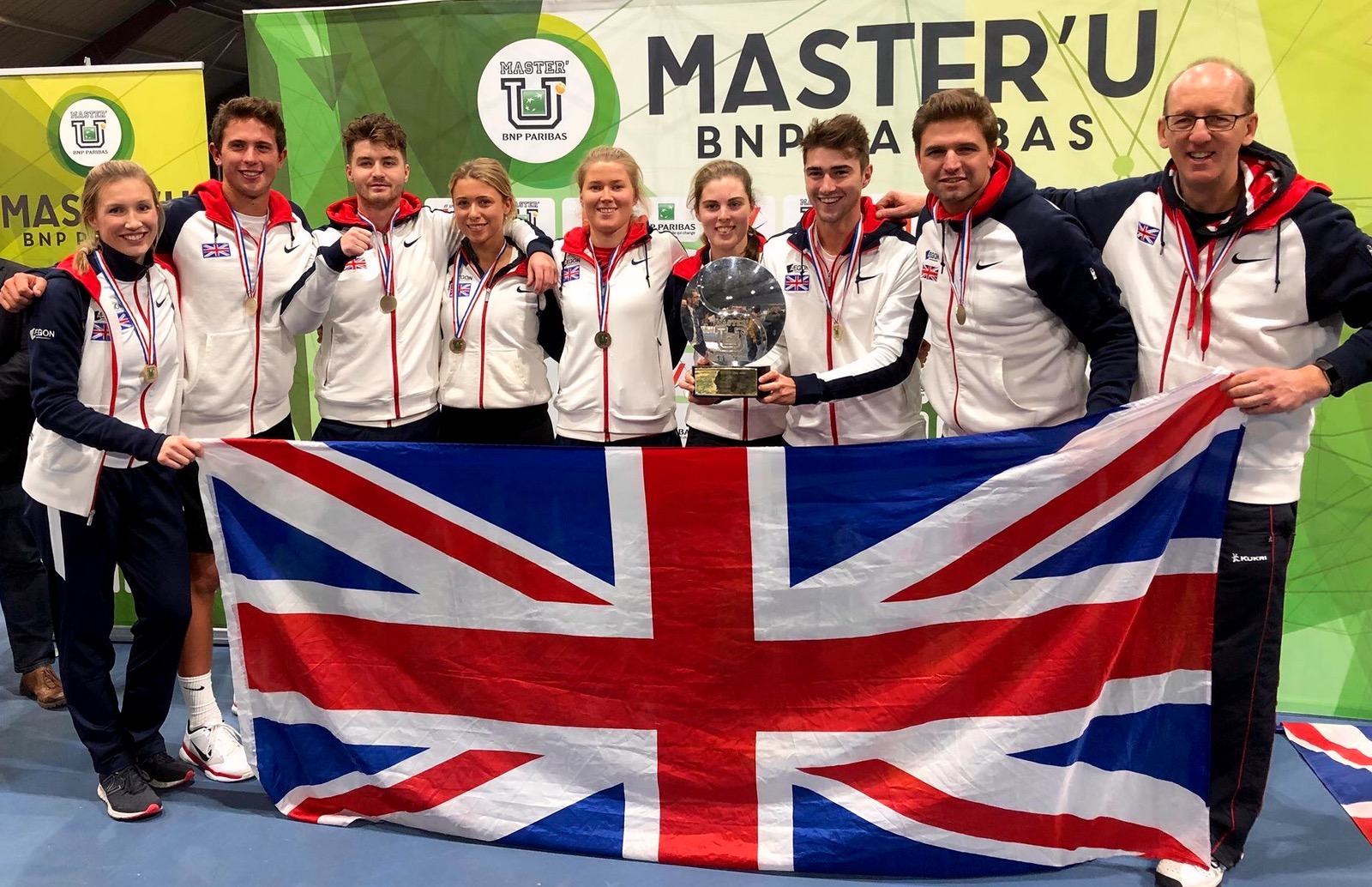 Britain, whose previous highest finish at the tournament was third place, began the week with a 6-1 win over Ireland.
Saturday's whitewash of China set up a title showdown with an American team packed full of top college tennis scholars and the opening match, between Sport & Exercise Science student Hurst and former US Open junior champion Ena Shibahara, set the tone for a terrific tussle.
Hurst, supported by a Trendell Sports Scholarship, won the first set 7-5 and was serving for the match at 5-4 up in the second before Shibahara battled back to take it 7-5. The American imposed herself in the third set but Hurst refused to go down without a fight and saved six match points before being edged out 6-4 after more than two hours.
"Emma showed tremendous spirit against a very strong opponent and the match could easily have gone either way," said Scollo. "She really raised her play to another level over the course of the week."
The other singles players emulated Hurst's fighting spirit to give Britain a 3-1 lead, with Jonny O'Mara saving four match points on his way to an epic three-set victory over the American number one.
The doubles matches proved to be equally close-fought, with Hurst and Maia Lumsden narrowly losing out 10-8 in a third-set tie-breaker, but the men's partnership of O'Mara and Jack Findel-Hawkins won their contest 6-4 6-3 to give Britain an unassailable 4-2 lead overall.
That meant the mixed doubles match scheduled to feature Horn and partner Scott Duncan did not go ahead but Scollo was quick to praise the overall contribution of the MSc Management student, saying: "Pippa looked really comfortable at this level in her other matches and was a great team person to have around."
Hurst and Horn, coached by Ian MacDonald and Craig Proctor respectively, are part of the University Performance Programme at Team Bath Tennis. It runs alongside the elite Academy programme, allowing students to combine training and playing on the international stage with a top-class education.
University tennis is supported by the Tennis Foundation, Great Britain's leading tennis charity, who play a critical role from helping to generate the future tennis workforce right through to supporting the sharp end of performance.
Alistair Higham, Universities Manager at the Tennis Foundation and Joint Team Captain of the Great Britain Master'U team in France, said: "It was an incredible day yesterday with the whole team contributing to a magnificent victory. Defeating the USA team with the best of the US College system including former US Open Champion and their No.1 ranked girl and No.1 ranked boy was very special.
"The team spirit we have second to none and the players found levels of performance and mental strength required to defeat the champions of six years in a row. This has been the result of a lot of hard work and investment behind the scenes from the Tennis Foundation for the past six years."