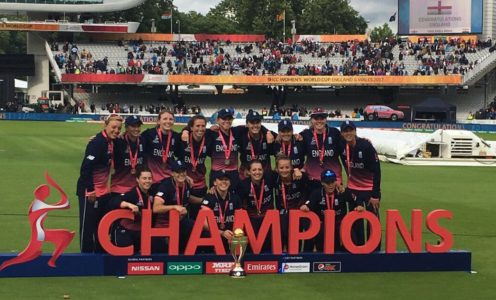 University of Bath graduate Fran Wilson was part of the England women's cricket team that was named as Team of the Year at the 2017 BBC Sports Personality of the Year Awards.
Wilson, who studied Sports Performance, helped England to victory in the Women's World Cup Final during the summer.
A multi-talented sportswoman, Wilson also captained the women's football 1st XI during her time at the University of Bath and was voted as Sports Personality of the Year at the 2014 Blues Awards.
She wasn't the only University alumna involved in this year's BBC awards – wheelchair tennis player Louise Hunt, who also studied Sports Performance, was a member of the voting panel that selected volunteer Denise Larrad for the Unsung Hero award.
Fantastic news – England Women's Cricket team win sports personality team of the year 2017, with @UniofBath and @SportsPBath alumni @fwilson07. Well done Fran!

— SportsPerf UniBath (@SportsPBath) December 18, 2017