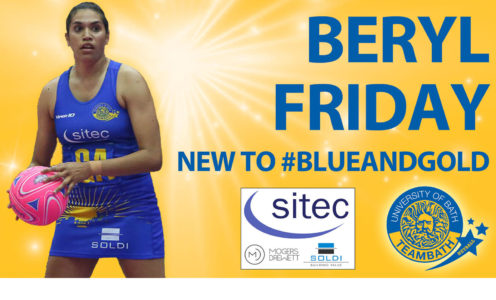 Versatile Australian attacker Beryl Friday says she has fulfilled a long-term ambition after joining Team Bath Netball for the 2019 Vitality Superleague season.
The 24-year-old made her first appearance in Blue & Gold during the British Fast5 All-Stars Championships recently, impressing with her composure and energy in attack.
Now Friday – a former ANZ champion with Queensland Firebirds – will bring those talents to Team Bath's Superleague squad for the new season and is looking forward to experiencing life in England.
"I am really excited to be a part of Team Bath," said Friday, who can play wing-attack, goal-attack and goal-shooter. "I understand that the team has a great culture and I am hoping I can positively contribute to the club.
"I'm not a flashy player but I like to think I am consistent, am happy to put up a high volume of shots and will give 100 per cent in every game, week in week out.
"Playing in England is something I have been planning on doing since I was a teenager. I have even refused to travel to Europe before because I knew I would live here eventually, so I am stoked it has actually happened. I feel this is a real tick to my bucket list."
Friday has been learning more about her new home country from returning Blue & Gold star Serena Guthrie, the duo having become firm friends while training together with GIANTS Netball in Sydney during the past couple of years.
"I knew that David Beckham and the Spice Girls are from England and people drink a lot of tea here!" said Friday, who was a training partner with GIANTS' Suncorp Super Netball squad and played for their Canberra sister club in the Australian National League (ANL).
"I've asked Serena a lot about England and she has been a great help, I am very lucky to have her patiently help me. She has cemented what I thought the club was about and how hard everyone works.
"I was sad when I heard Serena was leaving Sydney. I thought 'wow, I just met this really cool person and I don't know if I'll see her again', so it's quite funny that I'm going to be with her in Bath.
"I feel Serena has improved immensely during her time in Australia, her consistent defence and circle feeds in particular, and I am looking forward to being on the receiving end of some of those passes."
Guthrie is delighted that Friday will be joining her in Blue & Gold in 2019, saying: "I've got to know Beryl from being in the GIANTS netball set-up and I'm excited to see what she can bring at Superleague level.
"Her elusiveness and cool head will bring an element of composure to our attack end which will be key in pressure games."
Jess Thirlby, Team Bath Netball Head Coach, added: "Beryl has been a welcome addition to the team and has fitted in seamlessly already. She has a great character and brings energy to the group, while calmly going about her work on court.
"Beryl is an all-round attacker with lots of versatility and her ability and experience of playing both WA and GA at the highest level overseas will really add value to this team.
"It was great to see her make her mark so soon at the Fast5 All-Stars we are excited to work more with her over the next couple of months. I'm confident that Beryl will have a positive impact on the team and am excited to see her relationships with her team-mates develop and grow."
The 2019 Superleague season begins in January. Team Bath season and match-day tickets are already selling well and further details of how to purchase can be found by clicking here.
Team Bath Netball are sponsored by Sitec and supported by partners Mogers Drewett, Soldi and Netball South West. Centurion Chartered Financial Planners are supporting the team's performance analysis and people development capabilities, Viper 10 are their Sportswear Supplier and Skins provide the team with compression wear.