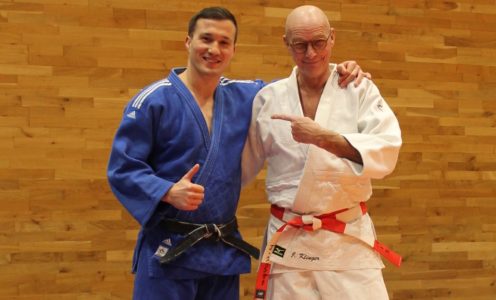 Three-times British judo champion Jan Gosiewski this week swapped his judogi for an academic gown when he was awarded his PhD in biomedical engineering at the University of Bath's Winter Graduation Ceremonies, held at the Assembly Rooms in Bath.
Having first arrived at the University of Bath as an undergraduate in Medical Engineering over a decade ago in 2006, Jan has combined his studies with an illustrious sporting career, coached by Team Bath's Juergen Klinger at the Sports Training Village.
His long list of sporting achievements during his time at Bath includes winning three World Cup medals, two European Cup medals, 7th place at the World University Games and competing for his country in the 2014 Commonwealth Games.
After graduating with MEng in Medical Engineering Jan did a one-year internship at Bath-based medical engineering charity, Designability. He continued his studies with an MSc Design before embarking on a PhD in Biomedical Engineering.
His research focused on understanding the mechanisms of how hip replacements can fail over time, using new engineering solutions to improve their longevity.
"It's been pretty tough combining my studies with my judo career but I'm incredibly proud to have achieved my PhD," said Jan. "The University of Bath provided the best of both worlds, being home to one of the best training groups for judo in the country, as well as one of the top departments in the UK at which to study engineering.
"I'm going to miss the vibrant atmosphere and amazing quality of life in Bath but it's time to move on. I am looking forward to continuing my career in biomedical engineering, although my judo training will be more focused on doing it for fun."
Jan was a triple scholar: he was awarded a Santander Sports Scholarship in 2012 whilst doing his MSc; his PhD was supported by the James Dyson Foundation and he also received a scholarship from the Trendell family in recognition of his sporting achievements. Additional support came from the Team Bath Dual Career programme.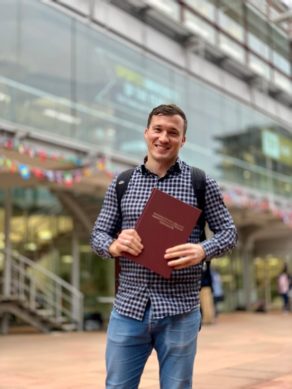 Coach Klinger added: "Jan is a very disciplined athlete and so he was able to come up to a world-class level in judo and now he has finished his PhD as well, a great achievement!
"My philosophy for the judo program is that every young judoka needs an education. There are already too many young people doing only judo and not thinking about their future. Because of that Jan contacted me to combine judo and his education here at the University of Bath.
"Jan came from a very strong judo background from Poland so he had a very good foundation for high performance sport. Over the years I tried to individualise his planning for his judo so that he was able to train twice a day and do his academic work as well.
"For me was it a pleasure to work with him in a lot of ways: he is an intelligent judoka with a fantastic movement; he is a smart academic person and has a friendly and honest personality. I wish all the best for him and hope that we will both stay in contact in the future."
Jan's supervisors at Bath, Professor Richie Gill and Dr Sabina Gheduzzi from the Department of Mechanical Engineering, supported his research and ensured that he was able to balance his judo training and competition commitments alongside his PhD.
Dr Sabina Gheduzzi said: "What is remarkable about Jan is the high level of academic attainment he has been able to achieve while performing at the highest level in his sport of judo.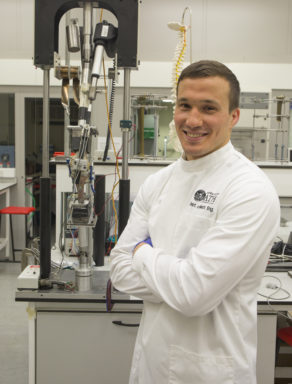 "Jan is a special individual in many ways. I am always impressed by the way in which he can keep calm while under the most amazing amount of stress and by the incredibly positive attitude he has shown over and over again exemplified in his constant drive to do better.
"While, selfishly, I will miss having Jan around, I am incredibly proud of his achievements and of the person he turned out to be. I truly wish him all the best for his future and I know that he will do well in whatever he sets his mind to."
Professor Richie Gill added: "I am very proud of Jan's successful completion of his thesis. He was able to balance very a demanding high level sport activity with his doctoral work, and remain calm and positive even when faced with injury and high levels of stress."
Jan travelled to Zambia this summer to start an outreach programme from scratch in the poor communities of Lusaka as part of the Volunteer Zambia project.
During his three-week placement, he organised and implemented judo demonstrations in the poorest schools and then recruited children to train at the Olympic Youth Development Centre (OYDC).
Jan said: "My training session at OYDC grew every day and by the end I had 50 complete beginners, an immense result considering the limited time and resources at hand.
"Sport can be transformative and I've seen how much the kids were all empowered by judo. The kids are still training and the sessions are now being led by a local coach who I'm still in contact with.
"On top of this I also worked with the experienced group of teenagers and help a particular athlete prepare for the Youth Olympics."