The University of Bath doesn't just offer students the chance to compete in sport – it also provides opportunities for personal development through coaching, volunteering and learning practical skills such as personal training and sports massage.
Team Bath Training & Development's vocational courses, delivered by a team of elite practitioners and educators in the University's world-leading training environment, are ideal for those who combine study with sport or students considering a career in the health and fitness industry.
Many students every year take the opportunity to gain new skills alongside their degree, with student-athletes on the Team Bath Dual Career programme eligible for course discounts.
Among those to have benefitted from a Training & Development course is current British Skeleton World Cup athlete Madelaine Smith, who qualified as a personal trainer while studying Sports Performance at the University.
"I didn't think I would want to be a personal trainer, I just thought it would be something interesting to do, but as soon as I started the course I found myself really enjoying it," she said.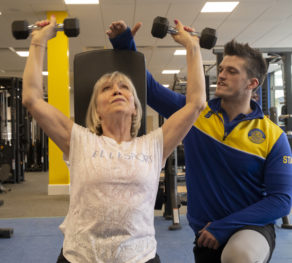 "Working with people who aren't elite athletes, just members of the public who want to enjoy a healthy lifestyle, and seeing them progress is very pleasing. It's also helped me develop my communication skills – you have to tailor your approach to different clients – and it's a good way to earn a bit of money during the summer!"
Sport & Exercise Science student Laura Macro, a GB Rowing Team U23 rower who is supported by a Santander Sporting Scholarship, completed a Level 1 Coaching Weight Lifting course run by Team Bath T&D in association with British Weight Lifting.
"The course intertwined really well with my academic degree and my rowing training," she said. "I was already quite familiar with the techniques through my rowing training but it's different when you are coaching other people, you have to know what to look out for and how to explain it.
"I would definitely recommend the course, I don't know anyone who doesn't think it is useful. It is such an important skill to have on your CV and weightlifting exercises can be applied to so many other sports like rugby, football, judo and athletics."
Students interested in coaching can also develop their skills and gain practical experience through Team Bath Tribe, the University's popular youth sport programme that provides fun sessions every week across a host of different sports.
Sport & Social Sciences student Marlon Gasparotto, a former swimmer and modern pentathlete, has been working with Tribe during his four years at the University and says it has been a great experience.
"I have been a swimming coach since the age of 16 but I have been able to apply and develop those skills across other sports like football, rugby, judo, athletics, badminton, hockey and beach volleyball," he said.
"It has definitely enhanced my student experience. It has helped me a great deal with timekeeping and organisation, I have developed more friendship groups and I am more autonomous as a person – I was used to having a coach guide me but now I am setting the goals. It has also helped me financially.
"I found something I love to do right here on campus and I would highly recommend it."