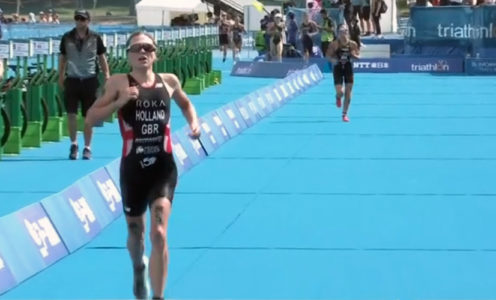 University of Bath-based triathlete Vicky Holland won bronze in a dramatic women's race at the Tokyo 2020 Olympic Games Test Event in Japan.
The Rio 2016 medallist finished fifth but was elevated to the podium after team-mates Jess Learmonth and Georgia Taylor-Brown, who had placed first and second, were disqualified after crossing the line hand in hand. Officials deemed this to be a 'contrived tie situation' and a British Triathlon appeal was rejected.
Holland – who won the World title in 2018 – had excelled in the decisive run leg, which was reduced from 10km to 5km due to extreme heat.
"It wasn't the set of circumstances that you want when you win a medal but you have to play to what's given to you and I've come out with a third place finish," Holland told British Triathlon.
"I really feel for Jess and Georgia because they raced exceptionally well today and I feel like they absolutely smashed it and deserved the first and second finish.
"I felt really good on the run. I would have liked to have run the full 10km as I think that would have played to my strengths and I just felt better and better as the run went on.
"I feel like we were probably the best prepared team coming here today and the heat prep seemed to make us all fitter, which was shown in the results."