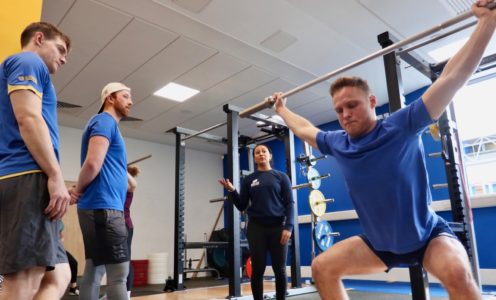 Olympian Zoe Smith returned to her former training base at the University of Bath this week to lead a weightlifting workshop in the Team Bath Gym & Fitness Centre.
The Glasgow 2014 Commonwealth Games gold-medallist, who represented Team GB at London 2012, and fellow weightlifter Noorin Gulam shared their expert knowledge with people of all experience during the interactive and informative session.
It took place in the dedicated lifting zone of the Team Bath Gym extension, which opened 12 months ago and impressed Smith on her return to the Sports Training Village.
"I trained here at the STV for two years and it is bringing back some happy memories being in the building," she said. "It's a bit different, though – this new gym extension is great, especially the lifting platforms, and I am excited to be back here.
"We are providing a mini workshop on the two weightlifting moves, snatch and clean and jerk, introducing new athletes to the movements and refining the technique of those who have lifted before.
"Weightlifting has the connotation of being for big, burly men but everyone can incorporate it into their training routine and that is what we are hoping to show at this workshop."
Smith, who won bronze at the Delhi 2010 Commonwealth Games while training in Bath, is hoping to become a double Olympian this summer at Tokyo 2020 and is well placed for qualification with a couple of competitions to go.
"I have dropped a weight category to maximise my chances of getting into the team and training is going well at the moment, so fingers crossed," she added.
Zoe Smith and Noorin Gulam are ambassadors for Nocco.