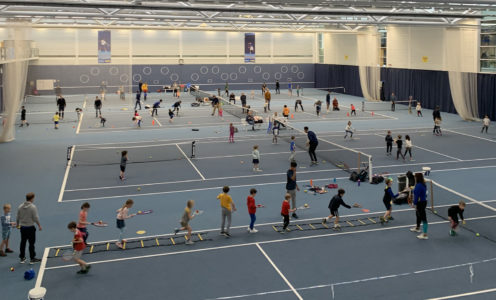 Team Bath Tennis has been shortlisted for a national award having been named this week by the Lawn Tennis Association as its South West regional winner for Education Excellence.
All five regional winners go forward to the national judging panel with results expected soon.
Team Bath Tennis, part of the University of Bath, operates alongside a number of local education partners, including Prior Park College and Ralph Allen School, and Director of Tennis Barry Scollo was quick to acknowledge the teamwork behind this success.
"This award is a great testament to all the hard work that goes on each and every day from the entire tennis team and its educational partners," he said. "There have been so many key partnerships with local schools that have helped us reach this position. We are also very lucky and appreciative to have such great support from the University and access to key resources to make so many educational programmes possible."
Scollo also singled out the education initiatives which were wrapped around the University's hosting of the Fed Cup in February 2019, the first time the international women's team tennis competition had been hosted in Great Britain for 26 years.
"The volunteering and teamwork from the University, schools, Team Bath tennis staff and much more was overwhelming for me to see at that time," he added.
Team Bath has also overhauled its student tennis set-up this year following the appointment of Francesca Begg as University Tennis Coordinator, who has built on the good work of previous incumbents Tom Ellis and Alex Walker – they remain part of the Team Bath Tennis programme as Head of Club Coaching and Tennis Manager respectively.
"The numbers of students on our programmes has gone up by 50 per cent this year, which is great to see," said Ellis. "We have also created 10 student tennis scholars who are given an insight into the tennis industry and the opportunity to develop their skills and knowledge as a springboard to earning money from tennis whilst they study and contributing back to the programmes."
Ellis also paid tribute to University of Bath Tennis Club chairman Ash Stoneman, who has been a pivotal and enthusiastic part of making all the improvements possible.