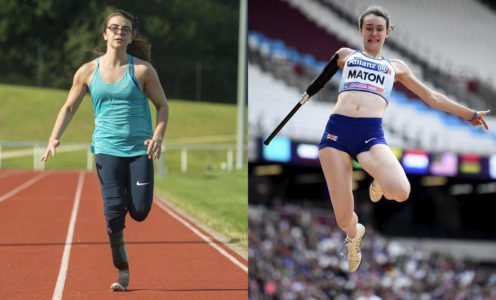 World medallists Sophie Kamlish and Polly Maton, who train at the Team Bath Sports Training Village, have been selected in the GB squad for the 2021 World Para-Athletics European Championships in Bydgoszcz, Poland.
The continental competition, taking place from June 1-5, is the first major international event since 2019 and a significant marker on the way to this summer's rescheduled Tokyo 2020 Paralympic Games.
Two-time Paralympian Kamlish, who won T44 100m gold at the London 2017 World Championships and is coached by Rob Ellchuk, will contest the T64 100m and the 4x100m Universal Relay.
Maton, a silver-medallist at London 2017 and coached by Colin Baross, will compete in the T47 long jump and 100m.
Both competed at the Coventry Sprint Meet last weekend, Kamlish beginning her season with a time of 13.73 in the 100m and Maton clearing a season's best of 5.17m in the long jump.