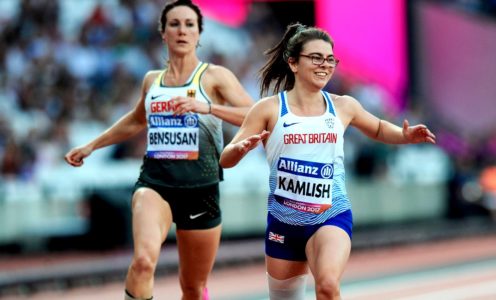 World record in the afternoon, World Champion in the evening – it was a magical Monday at London 2017 for Sophie Kamlish as she became the latest University of Bath-based athlete to win global gold.
The 20-year-old, who has been coached by Rob Ellchuk at the Sports Training Village since 2011, finally got the international title she has been striving for after two stunning performances in the T44 100m at the World Para-Athletics Championships.
Kamlish smashed her own world record when she clocked 12.90 in the heats and then held her nerve in a final delayed by a false start to scorch to victory in 12.92, much to the delight of the home crowd in the London Olympic Stadium.
It was Kamlish's first global medal since her 200m bronze at the 2013 World Championships and made amends for her frustration at the Rio 2016 Paralympic Games, where she also broke the world record in the heats but finished fourth in the final.
"Champion of the world sounds amazing, I can't imagine anything better!" said Kamlish, a lower-leg amputee who first got into athletics after attending a Playground to Podium event at the University of Bath in 2011 to identify potential Paralympians.
"The only other major international medal I've got is a bronze from 2013, so it has been quite a long time coming and I'm really, really happy.
"I was actually kind of glad there was a false start because my first start was so bad! The girls either side of me in the final are really good starters but over the past year since Rio, I have learnt to stay relaxed and think they're ahead of me but it's OK, I can overtake them.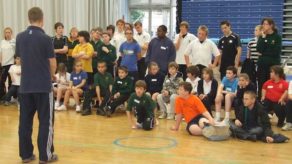 "I couldn't really ignore the parallels [between Rio and London]. It was nice to break the world record but it also gave me a few extra nerves because it was so similar to Rio.
"I knew exactly what went wrong in Rio, though, and I just had to rectify that. I'm really relieved and I've proven to myself I can do it. I'm so pleased, I can't quite believe it."
Kamlish was also full of praise for her coach, saying: "Rob has been my only coach since I started the sport and he's been immensely supportive. I don't think I would have been able to do any of this without him."
Training partner Paul Blake was disappointed with his eighth place in the T36 200m final but he will be back on Friday in the 400m – the distance in which he won gold at the Rio 2016 Paralympic Games. That final is at 8.03pm.
Polly Maton, coached by Colin Baross at the University, runs in the T47 100m final at 8.55pm on Tuesday.
Click here to find out more about the athletics programme at the University of Bath.
Thank you to Mark Shearman for the top image of Sophie winning gold in London.