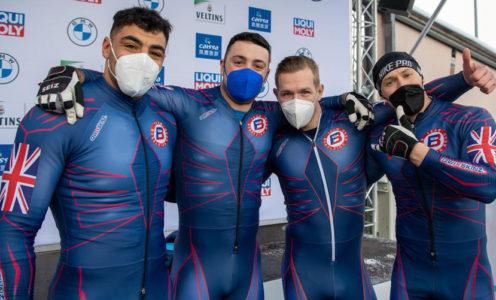 British Bobsleigh's Brad Hall and his four-man crew finished the 2021-22 IBSF World Cup season in a career-high fourth place in the overall rankings after another strong showing in St Moritz on Sunday.
Hall, Taylor Lawrence, Nick Gleeson and Greg Cackett clocked the fourth fastest start time in each run as they set a combined time of 2:09.97 for eighth place in the final race of the World Cup season in Switzerland.
It means it has been the most successful season ever for University of Bath-based Hall and his team, with six medals won across four-man and two-man World Cup competitions since November, plus another at October's Olympic Test Event in China. No British team has enjoyed such World Cup success since the 1990s – the perfect confidence boost going into the Beijing 2022 Winter Olympic Games, which take place during February.
A top-six spot in Saturday's two-man race saw Team Hall place fifth in the overall world rankings and that was also their final position in the combined two-man and four-man standings.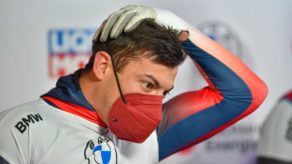 Fellow Brits Lamin Deen, Sam Blanchet, Luke Dawes and Greg Rutherford finished 19th on Sunday in 2:11.3, while the women's race earlier that day saw Mica McNeill and Adele Nicoll place 11th in 2:17.23 seconds – their second-best result of the World Cup season after their stunning silver medal in Sigulda.
The World Cup skeleton season concluded on Friday with Matt Weston (pictured) the highest-placed Brit as he finished ninth in the men's race, meaning he ranked tenth during the season overall. Marcus Wyatt and Craig Thompson placed 20th and 23rd respectively in St Moritz.
Laura Deas was 17th and Brogan Crowley 23rd in the women's race which was won by Australia's Jackie Narracott, who used to train at the University of Bath and is married to PyeongChang 2018 bronze-medallist Dom Parsons. It was a first-ever World Cup medal for Narracott.
Pictures: @rekords