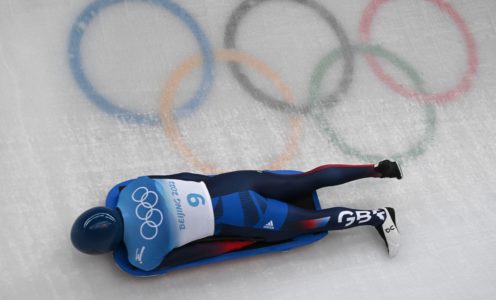 University of Bath-based skeleton athletes Matt Weston and Marcus Wyatt placed 15th and 16th respectively for Team GB on their Winter Olympic Games debuts at Beijing 2022.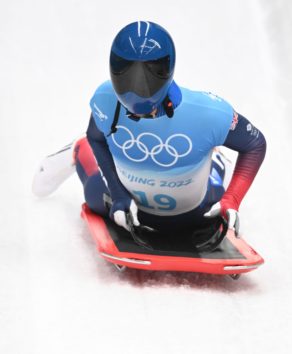 The duo, who train with the British Bobsleigh & Skeleton Association (BBSA), both moved up a place from their overnight positions following their performances in the third and fourth runs on Friday.
Weston (pictured top), who recorded the second-fastest start in three of the four runs, set a combined time of 4:05.24 to finish 4.23secs behind new Olympic Champion Christopher Grotheer of Germany. Wyatt was a further 0.67secs back with a combined time of 4:05.91 across his four runs at the Yanqing National Sliding Centre.
"I'm not happy with where I finished and I think we can do a lot better as sliders," said Weston. "I can't put my finger on why it went wrong at the moment but it's one to review and we will come back stronger from it.
"I can call myself an Olympian – that's a lifelong dream, so it can't all be too bad."
Wyatt added: "I'm really proud of how I came out here today to get my two best runs but ultimately where I'm sat is not what I came here aiming for.
"Maybe there's a little bit more fire in the belly because I know I can come back and do better so four years time hopefully, that's the objective."
Friday also saw the women's skeleton competition get under way, with the British duo of Laura Deas and Brogan Crowley sitting 21st and 22nd respectively after their first two runs.
Leading the way is Australia's Jackie Narracott, who used to train at the Sports Training Village with coach Rob Ellchuk and is married to PyeongChang 2018 bronze-medallist and University of Bath graduate Dom Parsons.
Heats 3 and 4 will take place on Saturday at 12.20pm and 1.55pm GMT respectively.