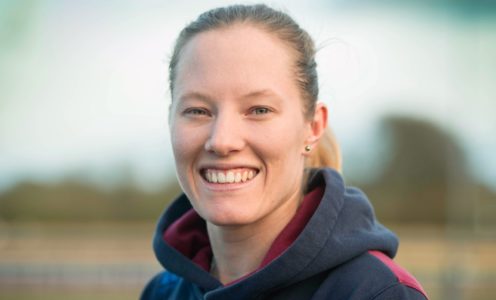 Her training group includes Paralympic, World and Commonwealth champions, while her uncle competed at both the Summer and Winter Olympic Games.
Now University of Bath-based skeleton athlete Jackie Narracott is ready to make her own mark on the global multi-sport stage when she takes to the ice for her native Australia at the PyeongChang 2018 Winter Olympic Games.
Narracott, from Brisbane, has been a regular competitor on the ISBF World Cup circuit during this Olympiad and booked her place in South Korea by ranking 18th overall during a 2017-18 season that included an eighth-placed finish at St Moritz in January.
That was her best result since taking the decision in April 2016 to move her training base to the University of Bath, where she works with sprint coach Rob Ellchuk in an athletics group that also includes Rio 2016 Paralympic gold-medallist Paul Blake, reigning World Champion Sophie Kamlish and former Commonwealth and World Champion Katrina Hart.
"It is such a fantastic group to be a part of and they have embraced me from the moment I got here," said Queenslander Narracott, who first took up skeleton in 2012. "It makes training so much more fun when everyone gets along and it's a good environment to be in."
Ellchuk also works with Team GB skeleton athlete and University of Bath PhD student Dom Parsons, who is Narracott's partner.
"Rob is a fantastic coach and, because he has been working with Dom for so long now, knows what skeleton athletes need to focus on," she added. "He works very differently to anyone else I know, it's stuff that he grew up doing and has found to work, but the results speak for themselves when you look at the medals his athletes have won and it is working for me too – I'm faster and I'm stronger.
"It's fun to train with Dom too because we don't actually get to spend much time together over winter – even though we are at the same places on the circuit, we are on two very different teams."
As well as her sprint work with Ellchuk four to five days a week, Narracott also trains in the Team Bath Gym following a programme supplied by Queensland Academy of Sport gym coach Chris Gaviglio. On the circuit she is supported by Canadian Olympic and World Cup coach Rob Derman, provided by the International Bobsleigh & Skeleton Federation (IBSF).
"I miss the sun and the heat from back home but I love it here in Bath, it's where I need to be at this stage of my career," Narracott said. "The Australian Institute of Sport has also been very supportive, I said I needed to be here for my development and they said yes."
Narracott has also received support from her uncle Paul, who was the first Australian to compete at both the Summer and Winter Olympic Games. He ran in the men's 100m and 200m at Los Angeles 1984 before participating in the two-man bobsleigh at Albertville 1992.
"My uncle has been amazing and has given me advice throughout my career – 'try this, try that, this is what you should be doing, make sure you are doing this'," said Narracott. "I wish he was coming to PyeongChang but he is on holiday!"
Narracott will start her Olympic campaign on Friday and had her first official practice runs at the Alpensia Sliding Centre on Monday morning, setting the tenth quickest time on her first outing.
She also competed in the World Cup race at PyeongChang last season, finishing 15th, and enjoyed a number of training runs on the track in October.
"I love the track, it is super fun and great for racing on," said Narracott. "There are some really technical parts and if you don't get those right, you don't have the speed at the bottom.
"I would probably say it is for the Canadians and Germans to lose but everyone going to the Olympics who is ranked in the world's top 17 has won a medal on the World Cup circuit in the last three years. I've had top-ten finishes in that time as well, so you are looking at 18 or 19 athletes who can challenge for the top ten.
"Earlier in the season at Park City, my two runs were just five-hundredths of a second apart but I dropped seven places – that is how tight the field is this season. Someone is going to end up disappointed but it's going to make for great TV."
Narracott and Parsons are among 16 athletes competing at the PyeongChang 2018 Winter Olympic Games who train at the University of Bath. Click here to see the selected athletes.