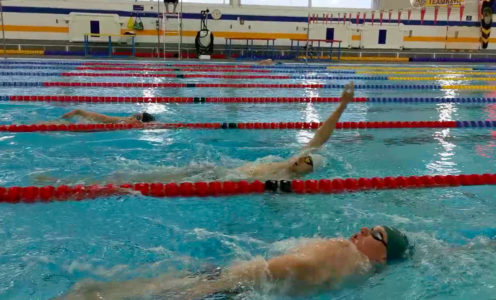 Freya Anderson completed a freestyle hat-trick and there were also wins for Jono Adam, Tom Dean, James Guy, Ben Proud and Brodie Williams as University of Bath-based swimmers impressed at the Edinburgh International Swim Meet 2022.
Olympic gold-medallist Anderson, coached by David McNulty at the British Swimming National Centre Bath, was victorious on each of the three days across the women's 100m, 200m and 400m freestyle contests.
The highlight of her triple win came in Sunday's 100m showdown with University of Bath alumna Anna Hopkin, who had taken the 50m title in a rapid time of 24.84. She sprinted into a strong lead at the turn, only for Anderson to surge back in the last 25m and beat her compatriot to the touch by two-hundredths of a second in 54.55.
Anderson had started the week with 400m victory in 4:12.30, with team-mate and University of Bath Santander Sporting Scholar Leah Crisp third in 4:15.34, and also swam a controlled race to take the 200m title on Saturday.
The men's 200m freestyle saw Olympic Champion Dean scorch down the last 50m to take the victory in 1:47.60 ahead of Tokyo silver-medallist Duncan Scott, while fellow National Centre Bath ace Guy was third in 1:48.74.
"This is such a special pool for me, my first British titles were here four years ago, and I can't complain with a 1:47," said Dean.
Guy – who, like Dean, won two Olympic golds last summer – took a dominant victory in the 100m butterfly, his time of 52.40 being a second clear of Bath team-mate Ed Mildred (53.53). Olympian Jacob Peters was fourth in 53.80.
University of Bath swimmer Ben Proud, coached by Mark Skimming, continued the fantastic sprinting form which earned him gold at December's World Short-Course Championships by recording wins in both the 50m freestyle (21.72) and 50m butterfly (23.46), the latter time a new meet record.
Tokyo Olympian Williams won the 200m breaststroke in 2:00.59 and was also runner-up to Scott in the 400m individual medley in 4:20.59, with University of Bath graduate Jacob Greenow third in 4:23.06.
There was a Bath one-two in the 100m backstroke through Sports Performance student Jono Adam (55.15) and Williams (55.47), and Luke Turley was fastest Brit in the 1,500m freestyle as he clocked 15:18.91 to finish runner-up to Spain's Carlos Garach Benito. He was also third in the 400m freestyle in 3:54.26.
Guy (1:58.90) and Emily Large (2:11.59) were second in their respective 200m butterfly finals, while there were third-placed finishes for Dean in the 100m freestyle (49.82) and Crisp in the 800m freestyle (8:51.13).
The Bath-based swimmers will be looking to build on these encouraging performances when they compete in the British Swimming Championships at Ponds Forge in Sheffield from 5-10 April.