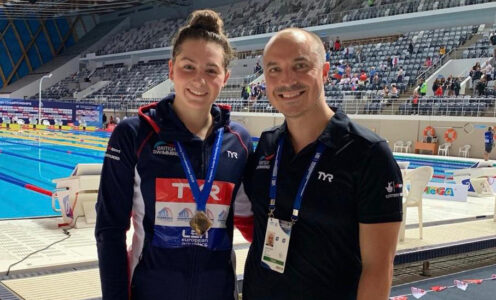 Jamie Main says it is "a privilege" to be joining the hugely-successful British Swimming squad based at the University of Bath after being appointed as the centre's new National Coach for Olympic Swimming.
Main, a mainstay of elite coaching in the East Midlands for the past two decades, is relocating to the South West to work with Bath National Centre Lead Coach David McNulty and an elite performance squad that produced eight medals at the Tokyo 2020 Olympic Games.
"I'm feeling excited," said Main, who has been Head Coach of Derbyshire's Derventio Excel squad since 2015. "It's a privilege to be joining David and the world-class team down there. The Bath National Centre offers athletes the very best training environment. Our job is to facilitate high performance every day to enable the swimmers to deliver when it counts, ultimately at the Olympic Games.
"I've been part of four Olympic-medal-winning campaigns and worked with international swimmers for more than 20 years, so I'm looking forward to guiding a group towards success in Paris 2024 and LA 2028."
The University of Bath is home to one of only two British Swimming National Centres, with swimmers who train in the Team Bath Sports Training Village having won medals at London 2012, Rio 2016 and Tokyo 2020. Five of the current squad – Tom Dean, James Guy, Matt Richards, Freya Anderson and Calum Jarvis – all won gold at last summer's Olympic Games.
British Swimming Olympic Swimming Head Coach Bill Furniss said: "Jamie will be a fantastic addition to what is a hugely-successful programme at the Bath National Centre. He has a great track record for bringing swimmers through and developing them across a variety of strokes and distances.
"Working with David McNulty, we look forward to seeing what Jamie can bring to the Centre and the continued impact he can have on poolside for British Swimming."
Click here to read the full story on the British Swimming website.