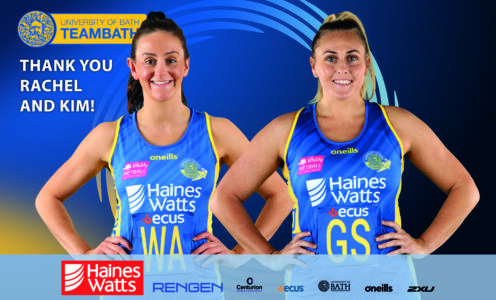 Team Bath Netball attacking duo Kim Borger and Rachel Shaw have today announced they will be retiring at the end of the 2022 Vitality Superleague season.
The duo, hugely popular and influential figures both in the Team Bath dressing room and with the Blue & Gold fans, say they are proud of their outstanding contribution to the club's legacy but are ready to move on to new challenges away from the court.
Wing-attack Shaw, who is in her ninth Superleague season at the club and Team Bath's current longest-serving player, said: "The body is getting just a little too old – I'm 30 but my body feels 60! I've had quite a lot of operations over the years and the last few seasons have been a bit restricted, so now feels the right time to bow out."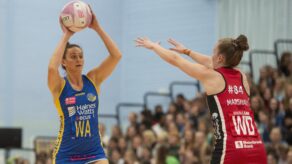 Australian shooter Borger, who had an immediate impact on and off the court when she first moved to Bath for the 2019 season, added: "It hasn't been an easy decision but I think it's time to step aside. You just kind of know – my body is telling me it's time and I also want to be able to go out on a good note.
"I love the sport and will always love the sport. It's been 25 years of my life and I just want to see who I am away from netball."
Shaw and Borger are close friends off the court and have been supporting each other through what they describe as a "weird and scary" decision to hang up their bibs.
"I'd been here quite a while when Kim arrived but it felt like an angel had dropped her down and said 'look after Rachel'!" said Shaw. "She fitted in seamlessly to this group and as a best friend to me. Kim has done a lot for Team Bath, not only as a team-mate who has played outstandingly game after game but also in her presence and how she keeps everyone together. She just wants the team to be in the best shape possible."
Borger added: "Rach has been my person, ever since I got here. We've been quite inseparable, particularly last year during Covid – we were in the same bubble and she was my rock."
Shaw – who represented England at U17, U19, U21 and senior level – joined Team Bath in 2013 from Yorkshire Jets after impressing at the World Youth Championships. She was blighted by injury in her first couple of years but became a key figure for the Blue & Gold and was an ever-present at wing-attack for five seasons.
Injury and illness have restricted her starts this campaign but she has continued to make great impact. Shaw will remain part of the Team Bath family in her role as Assistant Strength & Conditioning Coach with Team Bath Tennis, which she started earlier this year after a four-year spell as coach to the University of Bath student netball team.
"I just want to thank all the fans for bringing me into the Blue & Gold culture and supporting me, you welcomed me with big arms," she said. "It's a really emotional thing to say I'm retiring but I'll still be here supporting Team Bath, probably sat with you guys."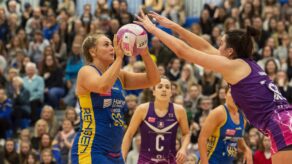 Former Australian U21 international Borger caught the eye of Team Bath Head Coach Anna Stembridge after being called into the Melbourne Vixens team as a last-minute injury replacement. She arrived at Team Bath in the winter of 2018 and was an instant hit, forging an outstanding attacking partnership with Shaw and goal-attack Sophie Drakeford-Lewis.
She has also brought her natural leadership skills to the club, skippering Team Bath during the curtailed 2020 campaign and leading the team out in the 2021 Grand Final as one of three co-captains that season.
Borger has loved her time in Bath and said: "For anyone who wears the Blue & Gold in the future, it is a real privilege. There have been some phenomenal athletes come through this programme and they have led the way in getting netball where it is and where it potentially could go. Wear the colours with pride – I know I have and I know Rachel has."
Shaw and Borger will make their last appearances at the Team Bath Arena on Friday as the Blue & Gold take on Wasps in a crucial match in the Superleague play-off race (7.30pm centre-pass). It will also be the last home game for Team Bath Superleague Head Coach Anna Stembridge, who is stepping down at the end of the season.
Stembridge said: "I have a lot of history with Rach as she won her first cap while I was England Head Coach. She has been phenomenal on and off the court for Team Bath – she has incredible aerial ability, a fantastic touch and is fearless at taking on defenders from the centre pass. She also has a bubbly, infectious personality and a lovely smile that really lifts everyone around her.
"Rach has a wonderful career ahead of her, whether that's in her current strength and conditioning role or as a high-performance netball coach. She just has a great netball brain, she really understands the game and I believe she could go far if she wanted to pursue a career in coaching.
"I first saw Kim back in 2009 when I was coaching England U21s and she was part of the Australia U21 squad. I watched her again in that Vixens match in 2018 and saw someone who was calm and composed, with great hands and fantastic footwork.
"I thought she could set the court on fire for us and then when I spoke to her I was even more impressed. She shared all the values we have – team first, enthusiasm, constantly looking to improve – and she has brought so much to Team Bath and the Superleague.
"Kim understands it is not just winning or losing, that netball can have a massive societal impact. She works tirelessly with outreach programmes and local sporting charities, and I have no doubt she will continue to touch many hearts in the future when she returns home to Australia."