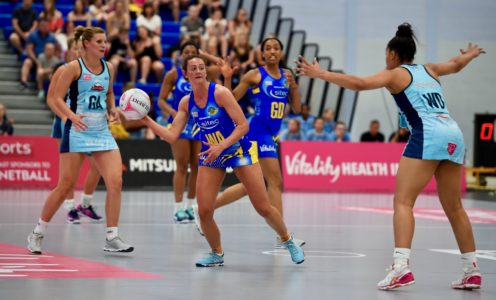 England international Rachel Shaw will combine playing with a new coaching role after committing to Team Bath Netball for the 2019 Vitality Superleague season.
The dynamic wing-attack, who first joined the Sitec-sponsored Blue & Gold in 2013, has taken over from former Superleague-winning captain Asha Francis as Assistant Netball Coach and will work with University of Bath students in British Universities & Colleges Sport [BUCS] competitions.
She will also be involved with the Team Bath Netball Futures Pathway programme, particularly the U15 players, and will make special community coaching appearances at clubs in the South West alongside her playing role as a key member of the Team Bath Superleague attack.
Shaw, whose previous coaching experience includes the Team Bath Netball school holiday camps and as a teacher at The Royal High School in Bath, is excited to take on her new role.
"Moving into coaching is something I have wanted to do for a while and I am looking forward to challenging myself," she said.
"I've always enjoyed coaching and it will be good to develop my style in a high-performance environment. I am a people person and very encouraging but I also challenge the players and expect them to challenge me back – if they have ideas, I want to hear them.
"I will learn a lot from the coaches around me at Team Bath and from the players I am working with. The University squad has a good mix of established Superleague stars and exciting U21 players, so I am looking forward to bringing that talent together and also to working with the young players coming through the performance pathway.
"The job is tailored for me to both play and coach to a high standard and I cannot wait to get going."
Shaw is hugely popular amongst her team-mates and with the Blue & Gold supporters, receiving special recognition at this year's Team Bath end-of-season awards for all of her hard work on and off court.
Team Bath Netball Head Coach Jess Thirlby, who herself made the transition from player to coaching with the Blue & Gold, said: "Rachel is an integral member of the Team Bath family and while most will know her as the outstanding player they see on court at Superleague, she is also a very good coach who has been developing in this area for a number of years.
"Rachel will be a fantastic role model for the student club and she understands the culture and values that we try to live by here at Team Bath.
"I'm really looking forward to supporting her on this journey and am confident she will have a positive impact across our programme."
Shaw is the second player to be confirmed in Team Bath's 2019 Superleague squad following the return of England superstar centre Serena Guthrie.
"I screamed when Serena told me she was coming back, I felt like a kid at Christmas!" said Shaw, who played alongside Guthrie during her previous spell in Blue & Gold.
"She is obviously a world-class player but she is also a wonderful person and friend. She is such fun to be around and brings so much to the squad on and off the court."
Tickets for the 2019 Vitality Superleague season, which is starting in January, will go on sale soon.
Team Bath Netball are sponsored by Sitec and supported by partners Mogers Drewett, Soldi and Netball South West. Centurion Chartered Financial Planners are supporting the team's performance analysis and people development capabilities, Viper 10 are their Sportswear Supplier and Skins provide the team with compression wear.