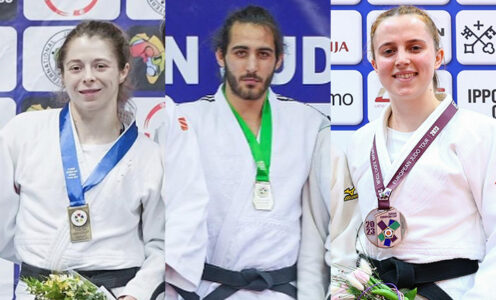 It's been an impressive month on the international circuit for Team Bath judoka, with three members of the high-performance squad recording their best results.
University of Bath graduate Chloe Robyns-Landricombe got the ball rolling with a brilliant bronze at the Tunisia African Open in the -52kg weight category. She secured her first Continental Open medal by defeating Chile's Judith Gonzalez by Ippon in the fourth minute of golden score.
The following week saw Sport and Exercise Science student George Kroussaniotakis, representing Cyprus, go one better than his Continental Open silver medal the previous year by winning -100kg gold at the Algeria African Open.
The final against Malta's Isaac Bezzina, world ranking 70, came down to a dynamic exchange which saw Kroussaniotakis attack and then display cat-like reflexes to repel a counter before securing a hold down for the Ippon score.
Sidney Tancock, who won her first senior British Championships medal in December but missed February's BUCS competition through injury, made a belated but strong start to her 2023 season as she won her first-ever Continental Cup medal in only her second appearance at that level.
Competing at the Latvia European Cup, the International Development with Economics student lost her first fight to the eventual gold medallist, Spain's Jana Cid Balcells, but responded by beating Estonia's Vilena Arshakyan by armlock in the repechage and then throwing Ashleigh Barnikel of Wales for Ippon in the bronze-medal match.
Tancock is a graduate of Team Bath Judo's Diploma in Sporting Excellence (DISE) programme, which gives aspiring judoka aged between 16 and 19 the chance to increase their training volume while also encouraging them to stay in education. Click here to find out more.
Pictured top: Chloe Robyns-Landricombe, George Kroussaniotakis and Sidney Tancock with their medals. CREDIT: AJU/EJU/Roberts Voskans