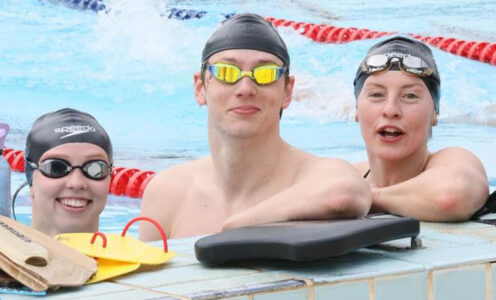 University of Bath sporting scholar Leah Crisp will make her World Aquatics Championships debut in Japan this summer after being named in British Swimming's marathon team.
The Economics and Mathematics student, who is supported by a Santander Scholarship, has been selected alongside Hector Pardoe and Amber Keegan following their performances at the Sardinia leg of the World Aquatics Open Water World Cup earlier this month.
All three athletes finished inside the top 20 of their respective 10km events – after the two-per-nation rule – to ensure their qualification for this year's World Championships, taking place at Seaside Momochi Beach Park in Fukuoka from 15-20 July.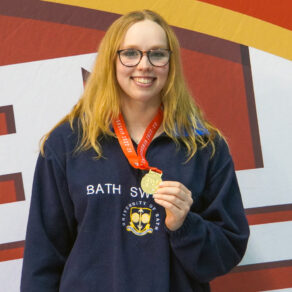 Crisp, a member of David McNulty's hugely-successful British Swimming Performance Centre Bath squad based at the Team Bath Sports Training Village, is making the transition from long-distance pool-based swimming, where she has won a host of medals for the University while competing in BUCS competition, to open-water marathon.
She followed up her debut senior open-water competition in Sardinia by placing 13th over the weekend in a strong women's 10km field during the next leg of the Open Water World Cup in Setubal, Portugal.
Kevin Renshaw, British Swimming's Performance Pathway & Distance Lead, said: "We're all looking forward to seeing what Hector, Leah and Amber can do this summer at Worlds. They've had some great results in the Open Water World Cup legs and we know they have also learned some very valuable lessons in what is a hugely challenging sport, so we know all of that will help them when they go toe-to-toe with the world's best."
Crisp is the eighth member of the British Swimming Performance Centre Bath squad selected for the World Championships, with fellow scholars Tom Dean and Cameron Brooker among the seven pool-based swimmers heading to Fukuoka.
Pictured top: Leah Crisp (left) with GB team-mates Hector Pardoe and Amber Keegan following their World Championships marathon swimming selections. CREDIT: British Swimming.