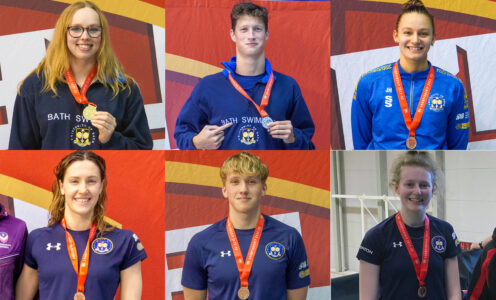 University of Bath students won 11 medals, including gold for sporting scholar Leah Crisp, and set a host of personal bests when they competed in athletics, badminton, climbing and swimming at the 2023 BUCS Nationals in Sheffield.
Leading the way with 10 of the podium places was the Bath student swimming squad, who secured impressive fourth-placed finishes in the men's, women's and overall rankings after some superb performances at the BUCS Long Course Championships.
Twenty members of the team progressed into A finals, competing in a total of 30 individual and five relay finals, and Head of Swimming Mark Skimming said: "It was a very good weekend of racing with a lot of positive results and a great team atmosphere. The team had to fight hard for medals, with the level of competition having increased in many events, and the rest of the season looks very positive.
"We are now looking forward to British Championships in April where the team will be aiming to improve on the personal and season's best times set."
Stand-out swims came from Santander Sporting Scholar Crisp (Economics & Mathematics), whose three medals included 800m freestyle gold in 8:42.44 plus bronze in both the 400m freestyle and 1,500m freestyle – her time of 16:34.64 in the latter was a first long course personal best in the event for four years.
Ivor Powell Sporting Scholar Cameron Brooker (Mechanical Engineering) also made a splash by claiming two individual medals, silver in the 200m freestyle (1:51.24) and bronze in the 200m backstroke (2:03.22). He also played his part in the 4x100m freestyle, along with Aiden Symons-Brown, Miles Drabwell and Lewis Maxwell, and the 4x100m medley relay, along with David Miller, Josh Gammon and Symons-Brown, where both teams were edged out to fourth by the smallest of margins.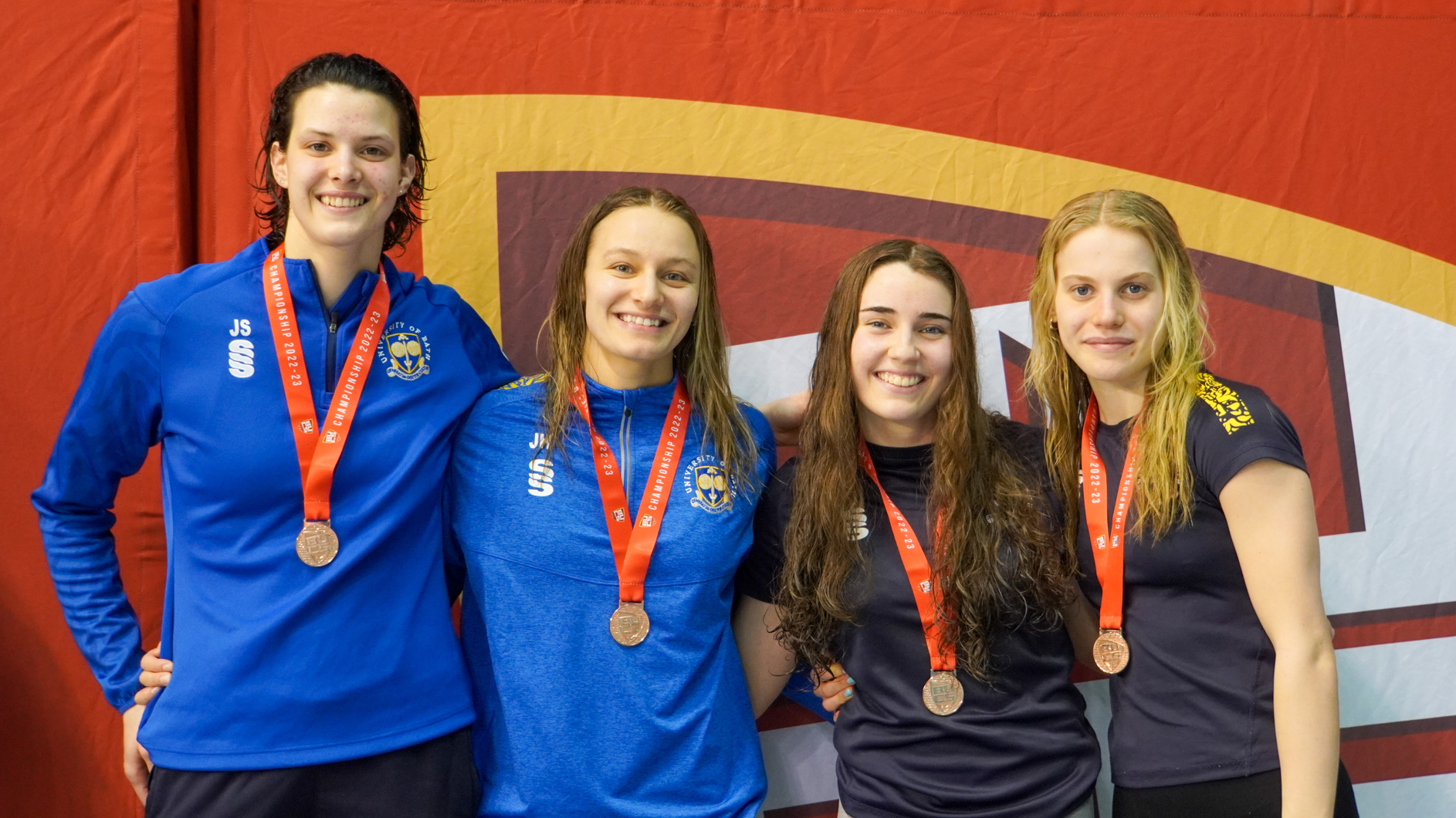 First-time individual BUCS medallist Jemima Hall (200m freestyle, 2:01.11) and Ekaterina Price (200m butterfly, 2:13.48) posted lifetime bests to get onto the podium against strong international fields. The pair are in their third and fourth year of study respectively and are coached by Andrei Voronstov. Hall then teamed up with Jana Spinner, Maisie Gilford and Annabel Smith to bring home another bronze medal, this time in the women's 4×100 freestyle in 3:49.08.
Gammon, another student swimmer coached by Voronstov, backed up his BUCS short course success over the winter by winning two individual butterfly medals at the championships, silver in the 200m (2:01.70) and bronze in the 100m (54.12).
Other individual A finalists included Brooker (5th 100m freestyle, 51.49), Hall (5th 100m freestyle 56.15), Jasmine Iley (4th 50m backstroke, 29.49; 6th 100m backstroke, 1.03.05; 9th 200m backstroke, 2.19.30), Spinner (5th 50m breaststroke, 32.44; 7th 50m freestyle 26.61; 6th 100m freestyle, 56.48), Emily Morgan-Hughes (9th 50m breaststroke 33.51), Markos Iakovidis (5th 50m breaststroke, 28.56), Charlotte Prince-Rayner (10th 200m backstroke, 2.19.67), Hendrik Van Der Leest (8th 200m backstroke, 2.06.02; 7th 200m butterfly, 2.05.39), Guilford (8th 50m freestyle, 26.75), Symons-Brown (9th 50m freestyle, 23.67), Miller (9th 200m breaststroke, 2.21.72), Gammon (50m fly 4th, 24.32), Maxwell (9th 100m freestyle, 52.18), Meghan Byrne (7th 400m IM, 5.06.34; 8th 200m IM, 2.22.07), Sam Williamson (9th 400m IM, 4.39.13) Drabwell (5th 200m IM, 2.06.54), Tobi Sijuade (10th 50m butterfly, 25.10), Archie Evans (9th 100m backstroke, 58.39) and Smith (8th 50m butterfly, 28.33).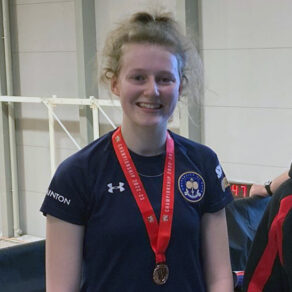 Psychology student Katie Scott was the University of Bath's best performer in the BUCS Badminton Championships, winning a brilliant bronze in the women's singles beating second seed Pamela Reyes on route to the semi-finals where she was narrowly defeated 15-21 21-19 21-16 by Alexandra Oprisan. Former Team Bath Futures player Kirby Ngan took the title.
Scott also reached the quarter-finals of the women's doubles with Cara Collins (Sports Performance), while Toby Dillingham (Mechanical Engineering) and Santander Scholar William Jones (Sports Performance) reached the same stage in the men's doubles. Kaylan Jensen (Integrated Mechanical and Electrical Engineering) was a quarter-finalist in the men's singles too after winning two knockout matches in straight sets, only losing out to a tough and experienced Spanish player from Loughborough.
The BUCS Indoor Athletics Championships saw Sport and Exercise Science student Matthew Alvarez narrowly miss out on a men's 200m medal by three-hundredths of a second as he finished fourth in 21.94 – he had clocked a new PB of 21.79 in the semi-finals.
Esther Leong (Interpreting and Translating) set a new indoor lifetime best of 3.83m to place fifth in the women's pole vault and Biology fresher Evelyne Fonteyne was sixth in the high jump after clearing 1.69m, just 3cm off a podium place.
Ben Sutton (Economics) was 10th in the men's long jump with a 6.47m effort, while Alex O'Callaghan-Brown (Psychology) placed in the same position overall in the 400m with a new indoor PB of 49.15.
Santander Sporting Scholar Aleeya Sibbons (Architecture) ran 7.46 to qualify fourth-fastest for the women's 60m final but had to pull out of the race.
Nine students also represented the University of Bath in the BUCS Climbing Championships. Kai Pheasant (Civil Engineering) and Aisha Suhaimi (Psychology) were the leading Bath athletes in the men's and women's competitions respectively.