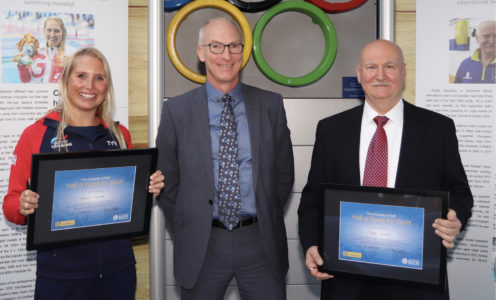 Paralympic champion Stephanie Millward and Olympic swimming coach Dr Andrei Vorontsov have today become the latest inductees into the University of Bath Hall of Fame for Sport.
Millward – who trains with Team Bath AS in the University's London 2012 Legacy Pool – has won an incredible 49 medals at major international championships during an illustrious career, including ten while representing Great Britain at the Paralympic Games.
Vorontsov is one of the world's most respected swimming coaches having guided a host of athletes for GB, Sweden and his native Russia to medals on the Olympic and World stage, while also producing more than 130 research papers and books in the field of biomechanics and its impact on swimming.
He is currently in his third spell with the Team Bath family, assisting Mark Skimming with coaching the University's student swimming squad.
Vorontsov and Millward were welcomed into the Hall of Fame for Sport by Stephen Baddeley, Director of Sport at the University of Bath, during a joint ceremony attended by families and Bath-based swimmers past and present this morning.
"Stephanie and Andrei are two thoroughly deserving inductees into our Hall of Fame," he said.
"Andrei is the kind of guy who goes about his daily business without fuss or fanfare and yet, as a visiting high-performance swim coach said to me just yesterday, he is a living legend within his sport. It is a real privilege to have him on our coaching staff.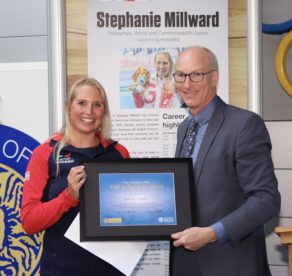 "Stephanie continues to enjoy an incredible swimming career but to be considered for the University's Hall of Fame, people have to also contribute to our sporting environment – and Stephanie does that every day. Not only is she an inspiration to others but she supports and cares for those around her, especially aspiring young swimmers and those in the Team Bath AS club with whom she trains and is an ambassador."
Millward's induction came just a month after she won her latest global titles at the London 2019 World Para-Swimming Championships, the 34pt 4x100m freestyle and medley crowns taking her world gold medal tally to ten.
She is now training towards Tokyo 2020 which, should she be selected, will be her fourth Paralympic Games. She won five medals apiece at both London 2012 and Rio 2016, including double gold at the latter in the S8 100m backstroke and 34pt 4x100m medley relay.
"Thank you to all at Team Bath and the University of Bath for this honour," said Millward, who is a patron and ambassador for nine charities. "To be inducted into the Hall of Fame and, through that, find myself linked to some of the country's greatest swimmers, athletes, coaches and performance directors is truly humbling.
"I remember so well returning from the 2013 World Championships in Montreal to find a banner across the STV entrance congratulating me on my four gold medals and it made my cry, I was so happy – this is my home. The environment, the staff and the culture here really does make a difference to us as athletes."
Vorontsov also enjoyed success at London 2012 and Rio 2016 as Head Coach of the Russia and Sweden national teams respectively, with his athletes winning seven Olympic medals in total – including a historic gold for Sweden's Sarah Sjostrom three years ago.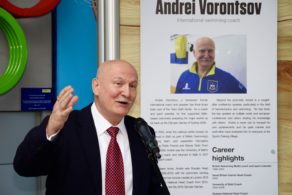 He had previously prepared swimmers in Bath for the Sydney 2000, Athens 2004 and Beijing 2008 Games while based at the University, first as British Swimming coach from 1999-2004 and then as University of Bath coach from 2006-2008.
"I am very pleased, honoured and overwhelmed to be here at such a ceremony," said Vorontsov, whose sport science expertise has made him a key speaker at conferences and clinics around the world.
"The 20 years since I first came to Bath have gone in an eye blink and I am very grateful to all the swimmers and athletes I have worked with. Thank you for this honour."
Millward and Vorontsov are the fifth and sixth swimming inductees into the University's Hall of Fame for Sport, joining Olympic medalists Michael Jamieson and Paul Palmer, multiple World Champion Mark Foster and seven-time Paralympic Champion Sascha Kindred.