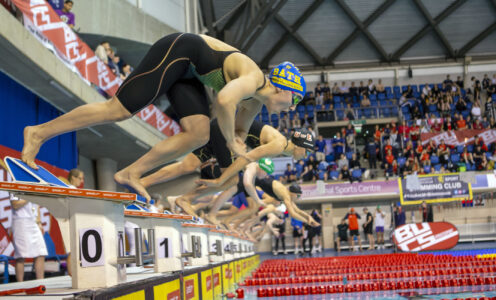 University of Bath student-swimmers won 12 medals, including gold for GB international Jono Adam, when they competed at the BUCS Short Course Championships 2022-23 in Sheffield over the weekend.
Those medals and a host of personal bests helped Bath finish third in the overall standings, as well as third in the men's competition and fourth in the women's.
Mark Skimming, Head of Swimming at the University, said: "There were very pleasing swims over the weekend and some great season's and personal bests, with lots of swimmers making A and B finals. It was a very good team result and a great team attitude where everyone wanted to race and do well."
Sports Performance student Adam, who made his international debut at this summer's European Championships in Rome, took the 100m backstroke title in 51.76 having won silver over 50m (24.06) on the first night of finals.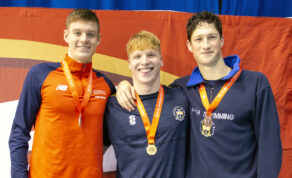 Joining Adam on the podium in the 100m final was training partner Cam Brooker, who won bronze in 52.50. He had also finished third in the 200m backstroke in 1:54.51.
Josh Gammon, who studies Sports Performance and is coached by Andrei Vorontsov, won three individual butterfly medals – silver in the 200m (1:56.75) plus bronze in the 50m (23.52) and 100m (52.85).
Gammon teamed up with Adam, Brooker and Tobi Sijuade to claim silver in the last race of the weekend, the men's 4x50m medley. It was a second relay silver of the weekend for both Health and Exercise Science student Sijuade and Ivor Powell Sporting Scholar Brooker, who helped a Bath quartet also featuring Aiden Symons-Brown and Miles Drabwell tie equal-second with Swansea in a thrilling 4x50m freestyle final.
Santander Sporting Scholar Leah Crisp was a double silver-medallist in the 1,500m freestyle (16:10.60) and 400m freestyle (4:08.43), while the first Bath medal of the weekend – also silver – went to Natural Sciences student Jana Spinner in the 100m individual medley (1:01.74).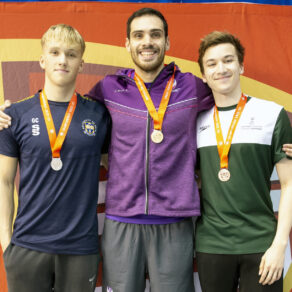 Economics student Drabwell went close to a medal in the men's 100m IM (55.82) and there were further fourth-placed finishes for David McNulty-coached Brooker in the 100m freestyle (49.03) plus the women's 4x50m freestyle and medley relay squads featuring Spinner, Jasmine Iley, Jemima Hall, Maisie Gilford and Charlotte Prince-Rayner.
Other individual finalists included Brooker (5th 200m freestyle, 1:47.41); Spinner (5th 50m breaststroke, 32.01; 8th 50m freestyle, 26.02; 9th 100m freestyle, 55.90); Lewis Maxwell (equal 6th, 100m IM); Iley (6th 50m backstroke, 28.79; 7th 100m backstroke, 1:01.20; 10th 200m backstroke, 2:13.86); Ekaterina Price (6th 100m butterfly, 1:01.12; 6th 200m butterfly, 2:14.91); Sijuade (6th 50m freestyle, 22.65; 7th 50m breaststroke, 27.88); Jemima Hall (7th 200m freestyle, 1:58.44; 7th 100m freestyle, 55.27; 8th 400m freestyle, 4:13.89.); Meghan Byrne (7th 200m IM, 2:16.98); Markos Iakovidis (8th 50m breaststroke, 28.06); Hendrik Van Der Leest (8th 200m backstroke, 2:00.59); Prince-Rayner (8th 100m backstroke, 1:01.29); and Gilford (9th 50m freestyle, 26.06).
Both Emily Morgan-Hughes (100m breaststroke, 1:10.65) and Sijuade (50m butterfly, 24.39) recorded B-final victories.