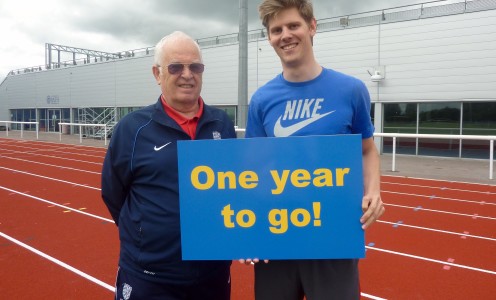 Athletes, students, coaches and graduates at the University of Bath are excitedly counting down to Rio 2016, with just one year to go until the Olympic Games get under way.
Olympic, World, Commonwealth and European medallists are among the many athletes from a wide range of sports aspiring to be Brazil-bound in 12 months' time.
Bringing home just how close the Games are is the fact that the University of Bath is staging a Rio qualifying event later this month – the Modern Pentathlon European Championships.
Eight qualifying places per gender will be up for grabs at the eagerly-awaited event, which runs at the Sports Training Village from August 18-23 and will feature more than 100 of the world's top all-round athletes.
Among them will be eight Pentathlon GB athletes, all of whom train at the University of Bath – the home of the sport's National Performance Centre.
Many of them also combine training with studying at the University, including Samantha Murray who was a French & Politics student when she so memorably won a silver medal at London 2012 – Team GB's 65th and last of the Games.
She went on to be crowned as World Champion in 2014 and has already set the qualification standard for Rio thanks to her top-five finish at this year's World Championships.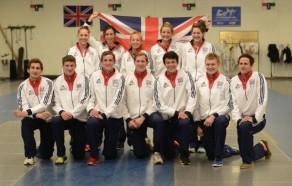 "The Sports Training Village at the University of Bath is a world-class facility and I'm sure it will deliver an outstanding modern pentathlon competition for Europe's best pentathletes," said Murray, one of 25 University of Bath-based athletes who competed at London 2012.
"I am not worrying too much about winning or thinking about Rio. It will just be a case of trying to get everything right on the day at the Europeans."
Sports Performance graduate Kate French broke into the senior team just a month before London 2012 but has established herself as a consistent international performer since.
"Having never competed in a major competition on home soil, the European Championships in Bath will be a new and exciting experience for me," she said.
"Spending so much time training in Bath, it would be amazing to have the opportunity to gain an Olympic qualification place here."
Among the current University of Bath students hoping to make the Olympics are Tom Toolis and Joe Choong, both of whom are in the men's squad for the European Championships.
"This year my performance has really come along," said Sports & Exercise Science student Toolis. "I've developed loads and I've made some finals at World Cups.
"I went to the World Cup Final as well which wasn't even part of the plan at the beginning of the year.
"The fact I've done that has really boosted my confidence and makes me feel ready for the year ahead."
Mathematical Sciences student Choong has also made great strides during the past 12 months and is hoping that will continue on the road to Rio.
"I'm the youngest athlete in the programme so I'm still learning the ins and outs," he said.
"But I'm trying to get ready to qualify for Rio. I'm going to give qualification a good go and I'm quietly confident."
The largest contingent of University of Bath-based athletes heading to Rio is likely to come from the British Swimming National Centre.
Four swimmers went to London 2012, including Sports Performance graduate Michael Jamieson who famously won 200m breaststroke silver on an unforgettable night in the Aquatics Centre.
In the three years since, more and more of Britain's best swimmers have moved to the inspirational world-class surroundings of the newly-refurbished £1.6million London 2012 Legacy Pool.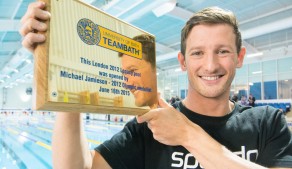 And Jamieson believes the current squad – coached by Dave McNulty and Graeme Antwhistle – could produce something truly memorable in Brazil 12 months from now.
"This team is on the brink of doing something pretty special at the Olympic Games in Rio next year," he said.
"We are undoubtedly the strongest team in the UK, if not the strongest in the world. You would really struggle to find another programme with the kind of strength in depth we have.
"There are six or seven swimmers here who are ranked in the top eight in the world. In a sport like swimming, where it really is a global sport, it says a lot about the kind of programme we have."
Jamieson is also confident he will be back to his best in time for Rio after missing out on a place at this year's World Championships, currently taking place in Kazan, Russia.
"The last nine or ten months couldn't have been any further from the plan that I had initially but that's sport, it's full of ups and downs," said Jamieson, who was supported by a Santander Sports Scholarship while studying at the University of Bath.
"I've been back in full training now for the past few weeks and I'm in great shape. I had a couple of really encouraging results in Europe recently and I'll racing at the US Nationals this week.
"If I can post a time at that meet which would have put me in the final, and hopefully on the podium, at the World Championships then I'll be right where I want to be in the lead up to Olympic year."
As well as those training with British Swimming, several members of University of Bath Head Swimming Coach Mark Skimming's performance group are also targeting Rio.
Among them is Jay Lelliott, a second-year Sports Performance student who won a 400m freestyle bronze medal at the European Championships last year before taking gold and silver at this summer's World University Games in Gwangju, South Korea.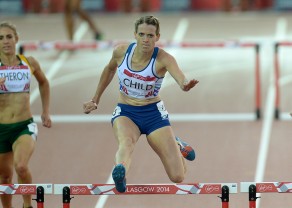 Hurdlers Eilidh Child and Lawrence Clarke are among the many track and field athletes training at the University of Bath who harbour strong Rio ambitions.
Both competed at London 2012, with Clarke finishing just outside the medals in the 110m hurdles, but feel they will be coming into their best form next August.
"London 2012 was a bit too early for me but hopefully I can really put my stamp on Rio," said Child, the European 400m hurdles champion who is coached by Malcolm Arnold.
"The last couple of years have gone really well for me and I feel I am coming to the peak of my career.
"Rio is always on the back of your mind and it seems to be coming around so quickly. Obviously I am focusing on the World Championships but you are always thinking of being ready for next year. Qualification has already started so the first thing is to tick that box."
Clarke – who, like training partner Child, has been selected for this month's World Championships in Beijing, China – is excited about his prospects for 2016.
"The peak age for a hurdler is usually 26 and it is amazing to think I will turning 26 during an Olympic year," said Clarke, who has just completed a Masters degree in Management at the University of Bath.
"I was running 13.58 a year before the last Olympics and this year I have ran 13.39 so I am in a much better place than going into London 2012.
"I can remember standing here on the Team Bath athletics track, doing an interview to mark 1,000 days until London 2012, and thinking that felt a long way away. Now it is only a year until Rio.
"But there is still a long way to go before then. There is a lot of competition domestically in the 110m hurdles and I have to do well in Beijing to show I have the ability to do well in Rio."
Sports Performance graduate Danny Talbot competed at London 2012 in the 4x100m relay and returned to the former Olympic Stadium last month for the Sainsbury's Anniversary Games.
Now he is starting the countdown to Rio 2016 with confidence high after being selected in the 200m for the World Championships in Beijing.
"It's unbelievable that Rio is so close, especially after going back to the Olympic Stadium in London last week," said Talbot.
"I learnt so much from London and hopefully I will learn even more from going to Beijing that I can take into Rio. The World Championships are massive but the Olympics are always in the back of your mind, especially with it only being a year out.
"Beijing will be amazing – I'll have the time of my life over there – but at the same time it's all part of the learning process towards an Olympic Games."
Talbot is part of Dan Cossins' training group at the Sports Training Village which also includes fellow Rio hopefuls Andy Robertson, Emily Diamond, Sophie Papps and Elliot Rutter.
"We have so much potential as a group," said Talbot. "We have the Olympics next year and the World Championships in London the year after – there's no reason why we can't get at least two or three of us there.
"If I can get to the final in Beijing, it will lift us all again and ensure we go into the Olympic year in a really good state of mind."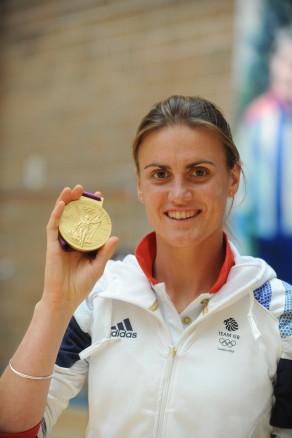 The first British gold medal of London 2012 went to University of Bath graduate Heather Stanning, who teamed up with Helen Glover to win a historic rowing title at Eton Dorney.
Since winning that women's pair crown, a first-ever Olympic gold medal for British women rowers, Stanning has served in Afghanistan with the 32nd Regiment Royal Artillery before resuming her outstanding partnership with Glover.
Unbeaten since 2011, they have added the World and European titles to their Olympic crown during the past 12 months but Stanning is not taking anything for granted looking ahead to Rio.
"There's no secret that I'm working hard to make sure I'm in the best possible position to defend my Olympic title in Rio," said the Sports Technology graduate.
"It'll be a very different Olympic experience for Helen and myself but we'll endeavour to make it another good one!
"With there only being a year to go makes everything that little more serious. There is only one more winter of training to do, only one more set of trials, only one more World Cup series before the GB Rowing Team become part of Team GB again.
"That's all exciting but also intense. A lot can happen in 365 days but it will also pass very quickly, so every day needs to have a meaning and focus to get the best out of our time."
Glover learnt to row on the GB Rowing Team Start programme at the University of Bath, as did Vicky Thornley who partners Olympic champion Katherine Grainger in the women's double scull.
The first target for Stanning, Glover and Thornley is to ensure they qualify their boat for Rio 2016 at next month's World Championships in Aiguebelette, France.
Qualification is also approaching a critical stage for the Team Bath international judokas coached by Juergen Klinger at the Sports Training Village.
The men have to be in the top 22 on the IJF world ranking list by May 2016, while the women need to be in the top 14. To add to the pressure, only one British judoka in each weight category can qualify.
Jan Gosiewski, a Biochemistry PhD student at the University of Bath, is one of those Team Bath athletes hoping to make the cut – and believes the inspirational environment at the Sports Training Village can help him achieve his goal.
"You have to believe you can reach Rio – if you don't, you are wasting your own time, your coach's time and your training colleagues' time," said the Trendell Sports Scholar.
"This year is critical, it is really hitting home how close that dream is to becoming reality. Now it is about putting every ounce of energy into training and competition to make sure we are there in Rio.
"There is no better place in the world for me than here in Bath. It is a place where I can develop and make the best of myself both academically and sportingly."
Among the other judoka aiming for Rio are Sport & Exercise Science student Gemma Howell, Business Administration graduate Tom Reed, Ghanaian Emmanuel Nartey and the Fletcher siblings, Ben and Megan.
"It is crazy to think that it is only one year to Rio, London 2012 still seems so recent," said Megan, the Commonwealth under-70kg champion.
"I have not qualified yet so I have that to think about first before the Olympics."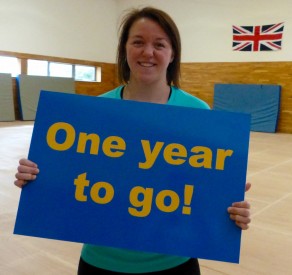 Follow University of Bath-based athletes on the road to Rio at http://www.teambath.com/sport/olympic-paralympic/rio-2016/
Pictured at the top of the page are Malcolm Arnold and Lawrence Clarke, marking the one year to Rio anniversary at the Sports Training Village