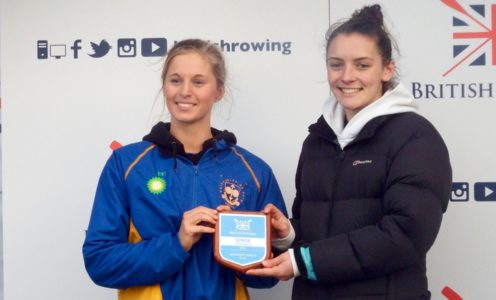 Steph Clutterbuck and Laetitia Tay brought home a trophy as the University of Bath Boat Club produced some impressive performances at the British Rowing Senior Championships in Nottingham over the weekend.
Tay and Clutterbuck won the University Shield category in the women's double scull on Saturday before teaming up with fellow student Laura Macro and Sport & Exercise Science graduate Sam Courty to win the B final and finish seventh overall in the quadruple scull on Sunday.
Courty – a multiple medallist for GB at the World U23 and World University Championships – also raced in the women's double with Coalporters RC's Caragh McMurtry, finishing as second-fastest open-weight crew and sixth overall.
The men's quadruple scull competition saw students Tom Stace, Luke Gwenter and Tom Mapp team up with Minerva Bath RC's Jens Hullah to win the C final after an exciting race against Newcastle University.
That result put them second in the U23 Shield rankings behind an Edinburgh University crew that featured two reigning World U23 champions and two former World Junior gold-medallists.
Mapp and Gwenter had finished fourth in the U23 standings when they raced in the men's double scull on Saturday, while club colleagues Will England and Stace were runners-up in the D final.
All of the University rowers are Team Bath Dual Career performance athletes who train alongside members of the highly-successful GB Rowing Team Start programme – including Hullah – based at the University of Bath and Minerva Bath.
Double Olympic women's pair champions Helen Glover and Heather Stanning are the most famous graduates of the Lottery-funded talent ID and development scheme in Bath.
Vicky Thornley also won silver at Rio 2016 in the women's double scull, while Courty has joined the full-time training programme at GB's Caversham training base this season. Economics graduate Frazier Christie, who won men's quad silver with Leander Club in Nottingham, also came through the Bath programme.
Testing is taking place at the University of Bath Sports Training Village from 5-8pm on Tuesday (October 25) for people who think they have the potential to be a rowing star of the future.
Click here for more information about the GB Rowing Team Start programme in Bath or contact coach Dan Harris on 07515 004574 or dan.harris@gbrowingteam.org.uk.