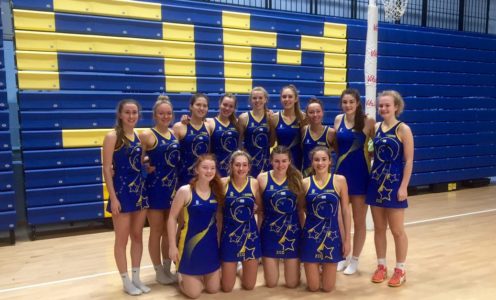 Thirteen potential future stars for both club and country have been named in the Team Bath Netball squad for the 2017 U19 National Performance League season, which begins this weekend.
Seven of the squad – selected from across the South West region and all aged between 14 and 19 – wore the Blue and Gold in the national development competition during 2016, finishing fifth overall.
The returning players include Ella Powell-Davies and Abi Robson, both of whom have represented England at age-group level, plus Shona O'Dwyer. That highly-rated trio have also been selected as training partners for the Team Bath Netball Superleague squad.
Holly Passmore, Sam Sullivan, Kirsty Harris and Annabel Staley have also retained their places in the NPL set-up, while Elisha New, Anna Lebe, Caitlyn Oates, Lauren Wood, Hannah Passmore and Millie Pearce have all been selected after impressing during a rigorous set of trials at the University of Bath.
Denise Ellis, who has been named as joint head coach of the NPL team along with Natalie Peperell, said: "It was always our plan to retain a consistent number of last year's squad and we are pleased to welcome some exciting new members to the group."
Jess Thirlby, Director of Netball for Team Bath, added: "We had a robust selection process and I am extremely impressed with the strength of both the playing squad and the coaching team we have put together. It is a talented group and we're excited to see how they progress this season."
The NPL, organised by England Netball, is designed to provide a pathway between junior and Superleague competition for talented young players. Notable players to come through the system for Team Bath include England defender and MJ Church ambassador Sam Cook, Jazz Scott and Paige Reed, who has been named in the 2017 Superleague squad after excelling in the NPL last season.
The league has been restructured for 2017, with Team Bath – whose assistant coach will be Nikki Lloyd – initially facing Hertfordshire Mavericks, Severn Stars, London Pulse and Surrey Storm in the South section of the competition.
Contesting the North section are Loughborough Lightning, Manchester Thunder, Team Northumbria, Wasps Netball and Yorkshire Humberside.
The top-ranked teams in each section will progress directly to the national semi-finals, while those placed second and third will play off for their place in the last four. Team Bath's opening fixture is at Mavericks on Saturday (January 21) and the final is scheduled for April 1.
Team Bath Netball are sponsored by Sitec, Mogers Drewett are their Education Partners, Centurion Wealth Management are supporting the team's performance analysis capabilities, Surridge are the kit supplier and Skins provide the team with compression wear.
Team Bath Netball 2017 U19 National Performance League squad (including county and club): Anna Lebe (Somerset, Team Bath NC), Kirsty Harris (Wiltshire, Team Bath NC), Elisha New (Gloucester, Hucclecote NC), Caitlyn Oates (Cornwall, Storm NC), Shona O'Dwyer (Wiltshire, Hucclecote NC), Hannah Passmore (Somerset, Team Bath NC), Holly Passmore (Somerset, Team Bath NC), Millie Pearce (Wiltshire, Team Bath NC), Ella Powell-Davies (Gloucester, Hucclecote NC), Abi Robson (Dorset, Team Bath NC), Annabel Staley (Gloucester, Team Bath NC), Sam Sullivan (Wiltshire, Team Bath NC), Lauren Wood (East Devon, Exeter NC). Training partners: Morganne Dunn (Somerset, Bridgwater NC), Anya le Monnier (Jersey, Team Bath NC), Maya Meredith (Dorset, Blades NC).