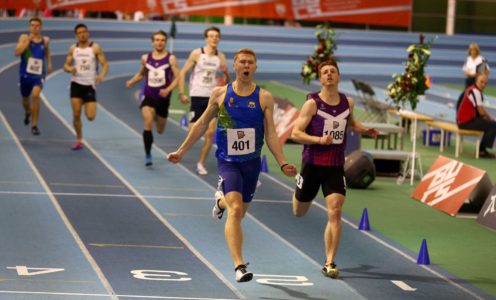 University of Bath sporting scholar Cameron Chalmers has been rewarded for his superb form this summer by being named in the British Athletics squad for next month's IAAF World Championships in London.
The Sport Performance student, supported by a Thompson Education Trust Scholarship, has been selected in the men's 4x400m relay squad after winning bronze at the recent Team Trials in Birmingham.
Chalmers, who broke a 17-year-old record when he won his fourth successive British Universities & Colleges Sport [BUCS] 400m title earlier this season, is one of four University-based athletes selected in the British squad.
MJ Church ambassador David King – who, like Chalmers, is coached by James Hillier at the Sports Training Village – will make his first appearance at a major global championships in the 110m hurdles.
Eilidh Doyle, coached by Brian Doyle, will contest the 400m hurdles at a fifth successive World Championships and Emily Diamond, coached remotely by Jared Deacon, will race in the 400m. Both are also in the women's 4x400m relay squad, where they will be looking to match or improve on their bronze medal at the Rio 2016 Olympic Games.
Also in the 78-strong team are two Sport Performance graduates – Danny Talbot goes in the 200m and the 4x100m relay, while Jack Green will race in the 400m hurdles and 4x400m relay.
Performance Director for British Athletics, Neil Black, said: "London 2017 is the major global sporting event this year and will be the biggest occasion the country has seen since 2012.
"We've selected some incredibly talented athletes and in many events there have been some close calls. It's now up to them to grasp this opportunity and produce performances that will make the whole nation proud."
The IAAF World Championships will take place at the London Stadium in the Queen Elizabeth Olympic Park from August 4-13.
London is also hosting the IPC World Para-Athletics Championships, which get under way on Friday. Three University-based athletes will be competing – World and Paralympic Champion Paul Blake, world-record holder Sophie Kamlish and fellow Rio Paralympian Polly Maton.
Applications are now being taken for the 2017-18 sports scholarships programme – click here for more information.