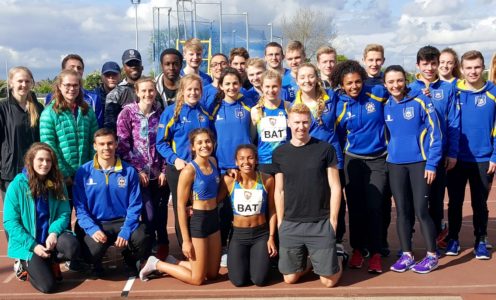 Cameron Chalmers smashed a 17-year-old BUCS Outdoor Athletics Championship record as University of Bath students came away from the Bedford International Stadium with eight medals.
Sports Performance student Chalmers, supported by a Thompson Education Trust Scholarship, claimed his fourth successive BUCS 400m title – two indoor, two outdoor – in a rapid time of 45.71.
"I'm so, so happy – I didn't think I'd run that quick," said Chalmers, coached by James Hillier. "I thought maybe it would be 46.1 or 46.2 but when I saw the clock it was just ridiculous.
"I've been pretty nervous all weekend. I've been dying to open [the season] because I've been training so well: no niggles and dropping some really fast times in training."
Training partner Ben Claridge took the bronze medal in 47.23 before teaming up with Chalmers, Sport & Exercise Science student Sandy Wilson and International Management & Modern Languages student James Webster to win men's 4x400m relay gold in 3:14.70.
Webster, coached by Colin Bovell, was also a bronze-medallist in the 400m hurdles, clocking 53.03.
Olivia Caesar (Sport & Exercise Science), also coached by Bovell, was runner-up in the women's 400m final in 54.11 and was also a silver-medallist in the 4x400m relay with Rachel Donnison (Natural Sciences), Amy Jaramazovic (Psychology) and Isobel Ives (Civil Engineering).
Caesar completed a hat-trick of medals by teaming up with Rachel Bell (Sport & Exercise Science), Emma Nanson (Sport & Social Sciences) and Donnison to win 4x100m relay bronze.
Ives also claimed 800m bronze in 2:09.27 and there were a host of further top-five finishes and personal bests for the athletes in Blue and Gold as they finished fourth in the overall points standings.
Click here for more information about athletics at the University of Bath.