After months of training hard and building her confidence at the University of Bath, Army veteran Kelly Ganfield will once again proudly represent her country when she competes at the Invictus Games in Toronto, Canada this month.
The 36-year-old, who is visually impaired and suffers from epilepsy, has been selected in a 90-strong British team and will compete in both athletics and rowing – the latter a sport she only took up this year when she started training with Team Bath Strength & Conditioning Coach Corinne Yorston.
"Invictus is my way of being part of something again and representing my country again," said Ganfield, who earned her call-up after impressing in the GB Trials staged at the University's Sports Training Village in April.
"This kind of opportunity doesn't come along easily and, to be honest, I've been blown away by the whole experience so far.
"I'm a runner and footballer really but I gave rowing a go at the trials and they said I was pretty good at it. I've also been selected for discus – I'm not sure how that has come about but I'll give it my best shot because this is for my country."
It was the desire to represent her country that motivated Ganfield to join the Army in 1998. She served in Northern Ireland for nearly four years and was ready for deployment to Iraq when she developed Antiphospholipid syndrome, a rare blood condition that caused two strokes and left her with epilepsy, a heart condition and visual impairment.
After being medically discharged in 2005, Ganfield spent more than two years in hospital and nine months at Headley Court, the British Armed Forces' rehabilitation centre, before slowly rebuilding her life.
Sport has played a big role in that. Inspired by the first Invictus Games for wounded, injured and sick servicemen and women in 2014, Ganfield began running to raise money for Blind Veterans UK and completed the London Marathon in 2015.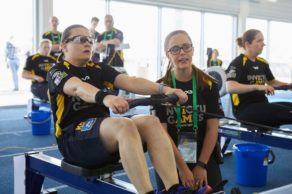 After moving to Trowbridge last year, she decided to target a place at the Invictus Games and began training three days a week with Yorston at the Sports Training Village – a decision that has had a huge impact both physically and mentally.
"At first I didn't have enough confidence to get on the buses as I'm not from the area, so my wife Sarah would have to drive me here," explained Ganfield, who is originally from Plymouth.
"I didn't think that was fair, so I decided to take the plunge and now I get the bus from Trowbridge to Bath Bus Station, cross the road and get another bus up to the University, then it's back to Trowbridge. I'm still not brave enough to walk around Bath city centre on my own yet but that is my next aim.
"I have felt very vulnerable since losing my Army career because most of my health issues are hidden. No one would know from looking at me that I have a brain injury and visual impairment.
"I am having to relearn everything, as well as test myself by doing things like getting a bus and coming to a gym which can be noisy and hectic. It's a big thing but I am as determined as ever and I've always believed anything is possible if you put your mind to it.
"I'm not the person I used to be, I get that fully, but I don't let that stop me and I think Corinne has seen that in me, which is why she pushes me as hard as she can. I respect that a great deal and it makes me want to do the best I can, not only for me but for Corinne as well."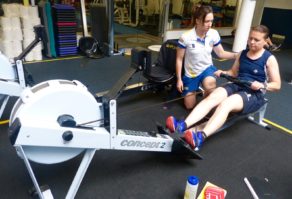 That respect is mutual with Yorston saying: "Kelly is an extremely committed and determined athlete. Alongside that, she is an amazing person who has worked incredibly hard since beginning her training.
"To have made it to where she is now from where she began and having never rowed before shows the effort she has put in to achieving this dream. Alongside a top work ethic, she always brings a lot of entertainment and character to the sessions, making it very rewarding to coach her. I'm very proud of her for achieving this deserved selection."
Ganfield is also grateful for the support of the wider Team Bath community and proudly wears the Blue and Gold colours when training and competing.
"The facilities here are phenomenal and I feel very relaxed and comfortable in this environment," she said. "It is particularly good for visually-impaired people, with yellow markings on the floor and logos on the glass.
"Above all the people here are lovely, they couldn't be more helpful."
The Invictus Games are taking place from September 23-30 and will feature more than 550 athletes from 17 countries. Visit www.invictusgames2017.com for further details.
Click here for more information about training at the University of Bath.