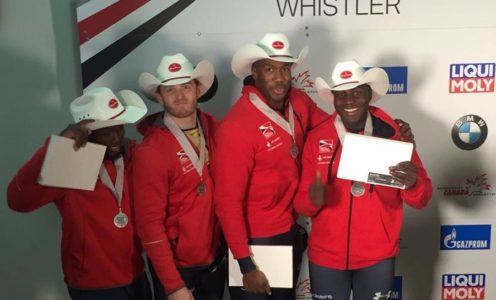 Lamin Deen led his crew to a fantastic four-man silver in Whistler as Great Britain Bobsleigh won a second World Cup medal in as many weeks on Saturday.
Deen, Toby Olubi, Ben Simons and Andrew Matthews reached an incredible 97mph in the first run as they set a new track record of 50.66secs, eclipsing a time set at the Vancouver 2010 Olympic Winter Games.
They were pipped to gold in the second run by Russia's Alexander Kasjanov but comfortably held on to equal John Jackson's silver medal-winning run in Lake Placid in 2013.
It came just a week after GB had won World Cup bronze in Park City through Brad Hall. He and crew-mates Nick Gleeson, Joel Fearon and Greg Cackett finished ninth at Whistler, just 24 hours after Mica McNeill and Mica Moore had claimed their best-ever World Cup result with a fifth-placed finish in the women's race.
"I've been in this sport nearly 25 years and this weekend is right up there with anything I've experienced," said GB Bobsleigh Head Coach Lee Johnston. "It's on a par with last week – and to have two weeks like in that succession is pretty special.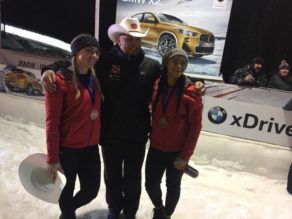 "In two days of racing in Whistler we've won a silver medal; broken a long-standing track record; had two men's sleds in the top ten again; recorded our best women's result for nearly nine years; and seen Brad equal his best two-man finish of his career. The level keeps lifting.
"We've got a team of 19 people out here all pulling together and working hard for each other and that's something that makes me very proud.
"One of our coaches, Petr Ramseidl, was working on the sleds until 2am and he was back in the garage at 6am today. That's the kind of work ethic that everyone in the squad – athletes and staff – are showing week in, week out. We're in a great place and the results are proving that."
In the skeleton competition, University of Bath PhD student Dom Parsons placed 13th in the men's race. Jack Thomas was 19th and Jerry Rice was 23rd.
The women's race saw Youth Olympic Champion Ashleigh Pittaway qualify for the second run for the first time on the World Cup circuit as she finished 19th overall. Laura Deas was 11th and Lizzy Yarnold 23rd.