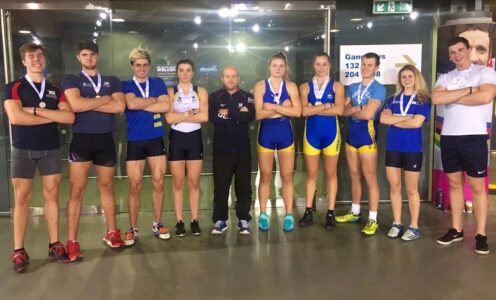 Rowers at the University of Bath won a host of medals, four of them gold, when they competed at the 2017 British Rowing Indoor Championships at the Lee Valley VeloPark on London's Queen Elizabeth Olympic Park.
It was a great day for members of Bath's GB Rowing Team Start programme, coached by Dan Harris at the University and Minerva Bath RC, with Chemistry student Luke Gwenter taking the men's U23 2k title, Santander Sporting Scholar Laura Macro – who studies Sports & Exercise Science – winning U23 lightweight women's 500m gold and Jens Hullah claiming the junior men's 500m honours.
There were also silver medals for Amelia Hempleman Adams in the open women's 500m, Kate Hunt in the U23 women's 500m and Crew Bath rower James Martin in the U23 lightweight men's 2k.
Hempleman Adams then teamed up with Zara Mulholland, a bronze-medallist in the U23 women's 2k, Joe Russell and Ollie Chick to finish runners-up in the mixed relay 4k. Hullah, Hunt, Gwenter and Macro were just outside the relay medals in fourth.
Sam Courty and Sara Parfett, graduates of both the Bath Start programme and the University, won silver and bronze with their respective GB Rowing Team quartets in the open women's relay 4k.
Invictus Games athlete Kelly Ganfield, who is coached by Corinne Yorston at the Sports Training Village, also enjoyed a successful first visit to the Indoor Championships.
The Blind Veterans UK ambassador won silver in the PR3-PD para women 2k race, the first time she had rowed that distance competitively, before teaming up with fellow Invictus athletes to win adaptive relay gold.
Ganfield narrowly missed out on a rowing medal at this year's Invictus Games in Toronto, Canada, but is training hard towards qualifying for the 2018 event in Sydney, Australia.