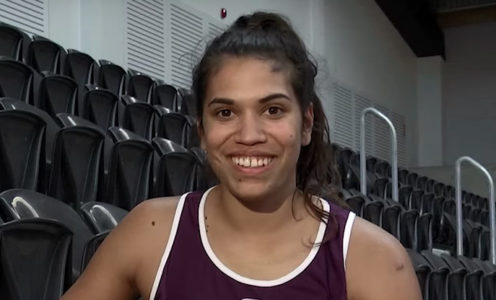 It may be Monday but Team Bath Netball have a "Friday" in the squad today announced for the 2018 British Fast5 Netball All-Stars Championship, taking place from 1-6pm on October 13 at London's Copper Box Arena.
Twice an ANZ title winner with Queensland Firebirds, Australian shooter Beryl Friday has joined an exciting Blue and Gold squad featuring a mix of new and familiar names for the event in which they were runners-up a year ago.
Imogen Allison and Chartie Curtis, both studying at the University of Bath and who have played for England age-group sides this year, will team up with Mia Ritchie and Rachel Shaw in the mid-court.
Laura Rudland and Sophie Drakeford-Lewis will join Friday and Chelsea Lewis in attack, while Wales international Leila Thomas features in defence alongside All-Star pick Stacey Francis. Commonwealth Games champion Eboni Beckford Chambers will be absent as she is getting married around the time of the event.
Team Bath Netball Head Coach Jess Thirlby said: "We had fantastic fun at this event last year as well as reaching the final. It's a great opportunity to play in a significant arena in front of what we hope will be a big crowd and, unusually for netball, for prize money.
"We are looking forward to this early opportunity to take to the court and show what we can do as part of the pre-season which will culminate on December 15th with our own Tri-Tournament in the Team Bath Arena".
Team Bath earlier announced the return of world-class defender Francis, who has just completed her second season with Australian Suncorp Super Netball finalists West Coast Fever, for the Fast5 event.
Francis said: "Playing for Team Bath is like coming home for me. To have the opportunity to rejoin the Team Bath Netball environment and put on the Blue and Gold dress again, even if only for a day, was one I couldn't have missed! I'm looking forward to playing under some of the best coaches I've ever worked with again and alongside some of my greatest friends."
Featuring 12-minute matches, an all-star 5-point line and a Golden Buzzer Power Play, the British Fast5 Netball All-Stars Championship is an all-action afternoon of non-stop, pulsating netball as the top eight teams from the 2018 Netball Superleague battle it out to be crowned 2018 All-Star Champions.
Tickets for the 2018 British Fast5 Netball All-Stars Championship will be available via www.fast5allstars.co.uk with tickets priced at £20, £30 and £40 with courtside hospitality tickets available at £99. Under 18s receive 50% off tickets, excluding courtside hospitality. Family and group discounts will be available.
Team Bath Netball are sponsored by Sitec and supported by partners Mogers Drewett, Soldi and Netball South West. Centurion Chartered Financial Planners are supporting the team's performance analysis and people development capabilities, Viper 10 are their Sportswear Supplier and Skins provide the team with compression wear.
Team Bath Netball squad for 2018 British Fast5 Netball All-Stars Championship: Imogen Allison, Chartie Curtis, Sophie Drakeford-Lewis, Stacey Francis, Beryl Friday, Chelsea Lewis, Mia Ritchie, Laura Rudland, Rachel Shaw, Leila Thomas.