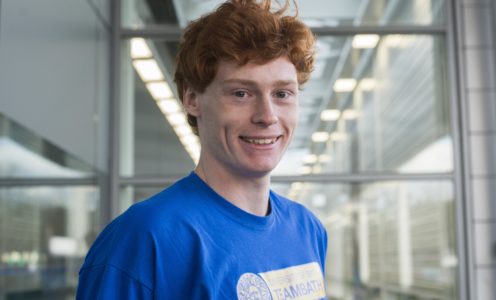 University of Bath sporting scholar Ben Jones has been called into the Great Britain team travelling to France this week looking to defend their title at the Master'U BNP Paribas event – the world's biggest annual university tennis team tournament.
Chemistry student Jones, who is supported by a Buchan Jones sports scholarship, replaces George Houghton who has had to withdraw from the six-strong squad through illness.
Barry Scollo, Director of Tennis at the University of Bath, is once again part of the GB coaching team for the tournament, which gets under way on Thursday (November 29) in Grenoble, France.
Jones and team-mates Manisha Foster, Laura Sainsbury, Maia Lumsden, Jack Findel-Hawkins and Isaac Stoute will be looking to emulate last year's historic success for GB, who beat the United States 4-2 in a memorable final.
Emma Hurst, who has since graduated from the University of Bath, and Management Masters student Pippa Horn were both part of the squad that secured that first-ever title for GB in 2017.